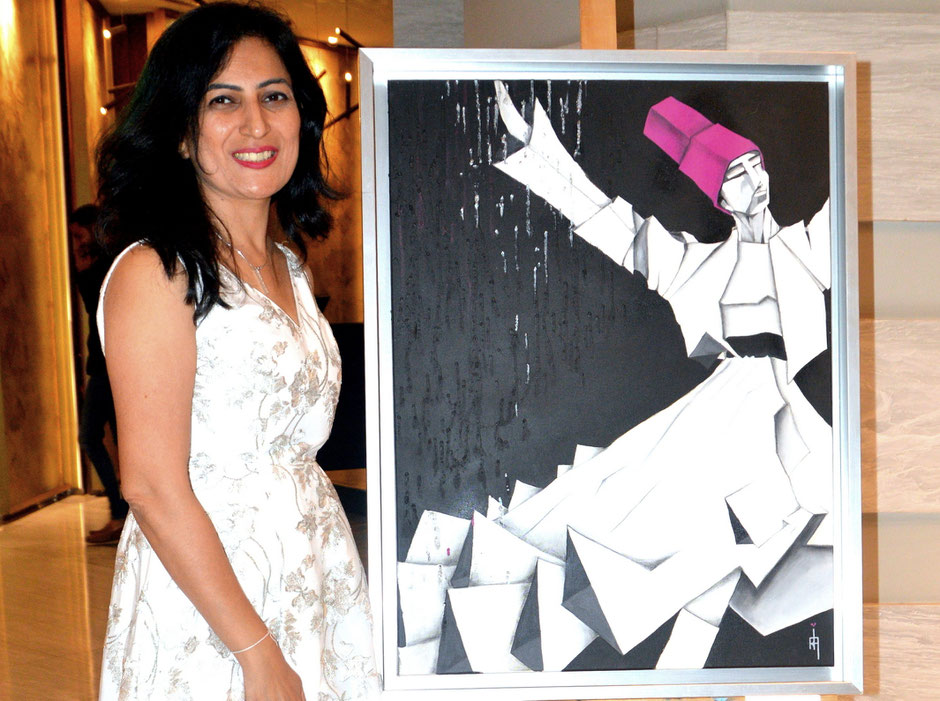 Artist Ria Sharma at her Solo Exhibition "CUFISM" at the Sheraton Hotel in Dubai
With dynamically dancing dervishes trying to burst out or constrains of lines, shapes and forms, Dubai based award-winning artist Ria Sharma, essentially combines Cubism and Sufism in her extraordinary artworks. Being a Civil Engineer she has fulfilled a successful professional career in construction for 16 years. In 2009, she accidently found herself in the middle of paints and brushes. The stress free environment inexplicably changed her to the extent that she decided to follow her new found passion. She started practicing Art in Dubai in year 2009, devoting her time fully to her passion. With a desire to bring out goodness to society through art, she involved herself into projects that focuses on social issues such as breast cancer awareness, women empowerment, refugee crises, Global Autism awareness and collaborating with Local special needs institutes such as Senses through non profit organizations.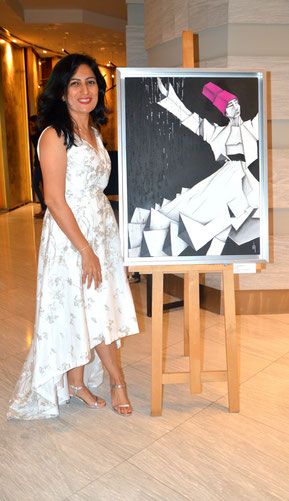 Ria is self-taught versatile artist but her true passion has been play of Cubism in her monochrome subjects. Her dynamic subjects are in rhythm with controlled cubist lines and powerful spirits that seek to burst from the constraints of the cubist shapes. She is also a modern Arabic Calligrapher.
"In my art practice I discuss issues that are beyond mere surroundings. Importance is given to factors that have deeper values specially emotions. We human beings are in general product of world around us, and connections that we create, whether with places, things, or each other. But rarely, we travel inwards. There is a whole new world within. I try and explore this connection through my artwork. In each art work I try to concentrate in inner beauty, strength and desires." Ria said. 
Interestingly, Ria's cubism challenges the  traditional understanding of "illusionism" same as academic rules of using the lights and shadows to create realistic and dramatical objects; her objects and figures look flat and can be measured and  fully embraced due to the unique geometric forms which makes the viewer have multiple insights on the painting instead of focusing on a few points on the cursory level.
But how she developed her artistic movement? "Originally I'm a Civil Engineer. Construction of blocks and angular lines are both clear descendants of time spent in my primary profession. Engineering is all about solving problems; finding solutions. A skill which requires defragmentation of involved components. I guess unknowingly the inner hidden artist always wanted to draw - since I am trained to do only technical drawings, possibly it is more natural for me to consider each part of human figures as constructive block and reconstructing these to build a human structure." 
Recently, Ria won Clyde & Co. MENA staff award 2019 and having participated in many international exhibitions.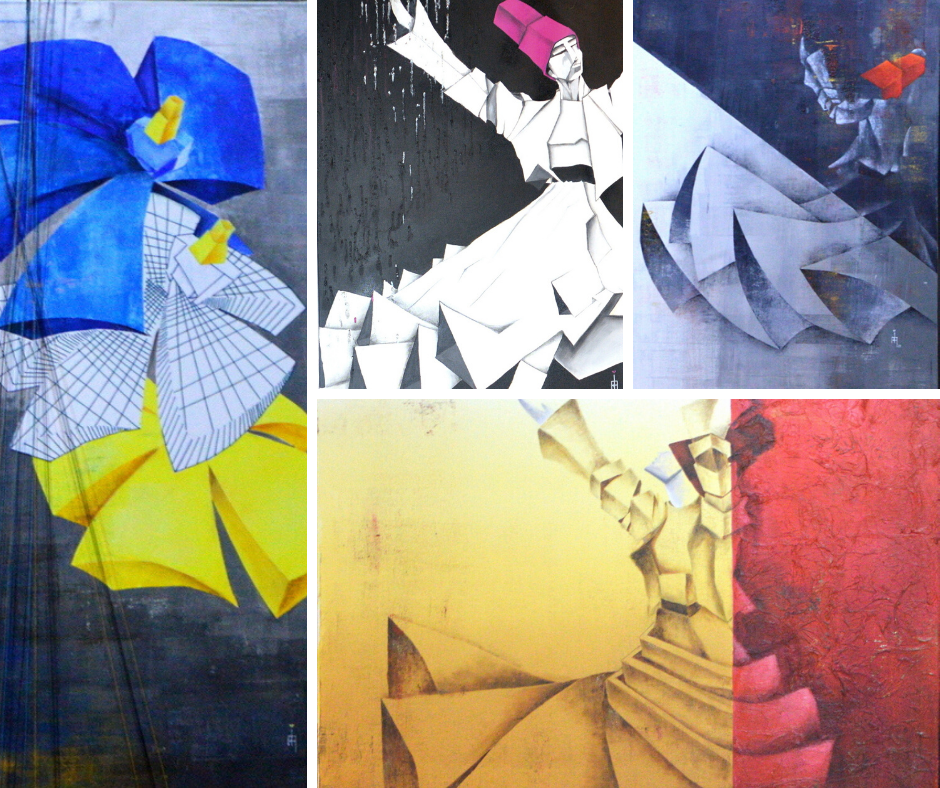 We met Ria at her Solo Exhibition "CUFISM" at the Sheraton Hotel Mall of the Emirates, back in February.
---