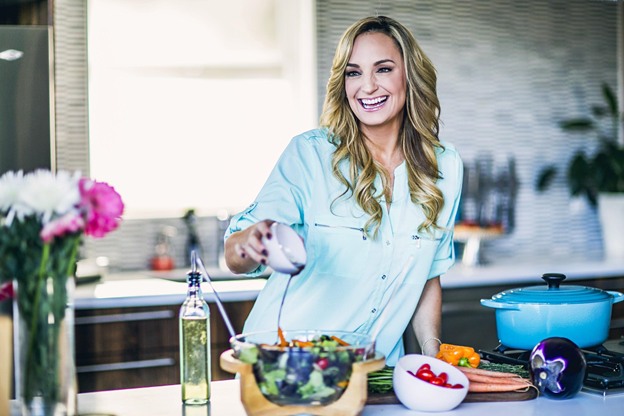 Parker Wallace of Parker's Plate, the Emmy nominated producer, is a well-known American TV Chef and Food Author of the best-selling cookbook "Eat Rich, Stay Skinny: A Girls' Guide to Holiday Feasting".
Many television viewers across the USA know her from popular programs. She describes herself as "Culinary Goddess" and inspires people to try some new and innovative, mouthwatering recipes. Parker discovered how to turn her passion of cooking into a thriving business.

First of all we would like to know: How did your romance with food begin? 
I didn't really take an interest in cooking until my early 30's, but looking back, my family really helped shape my love of food- and drawing that connection to cooking for loved ones. My grandparents, "Gramps and Ronnie" had a couch in their kitchen. I would lie on it, watching Ronnie cook and listening as my grandfather read to her from his chair at the kitchen table. It was pure L.O.V.E. in Ronnie's kitchen—I can vividly remember the smell of her roast chicken browning in the oven, the whistle of her pressure cooker, the buttery sound of my grandfather's voice, and how safe and wrapped in love I felt. Ronnie took such care to prepare Gramps his favorite meals, he would tell her, "My dear, this meal is a triumph!" For my grandmother, food was love. Love was feeding all of the people she loved. Ronnie told me, "Someday, you will understand the joy of witnessing someone enjoy a meal you've prepared." It would be years before I finally knew exactly what she was talking about!

How do you describe your style of cooking?
LEVEL 10 DELICIOUS. 
I don't have a particular style of food I prefer over another - every day is different, depending on my mood and what ingredients I have on hand. When I have the time, I love to experiment with a cuisine I haven't cooked before. On my list right now of must-makes: Jamaican Curried Oxtails and Jerk Chicken! In Atlanta where I live, we have year-round farmers markets with super exotic foods and spices. I find it so fascinating to look inside other shoppers' carts and see the combination of ingredients they're buying and envision what they're going to cook! 
Is there a secret or favourite ingredient that you love to cook with? 
I think fresh herbs are highly underrated and often not used in all the ways they can enhance food and flavor. A few years ago, we lived down the street from a house that had a giant rosemary bush near the sidewalk. I'd walk the dogs and snip rosemary as I walked past (neighbors were always welcome to take some!) and would incorporate it into everything from roasted potatoes to scrambled eggs. Quick tip: If you have a bunch of herbs that are about to go bad, pop them into a blender or food processor with some fresh garlic, shallot or some onion, lemon zest, lemon juice, a pinch of salt and then add some olive oil and emulsify. You can throw in some jalapeno for a spicier chimichurri-like sauce. I make this almost every week, saving some of the sauce to drizzle on salads, pasta, any protein -- and using the rest to cook with. One of my go-to recipes is to cut up a pound of boneless, skinless chicken thighs, then add that herbaceous marinade to the chicken. When you roast it (at 400 for about 35 minutes) the meat is always ultra-tender! Fresh herbs can also transform a store bought sauce or soup adding that pop of fresh into marinara, for example, can elevate the flavor and suddenly your jarred pasta sauce tastes "homemade."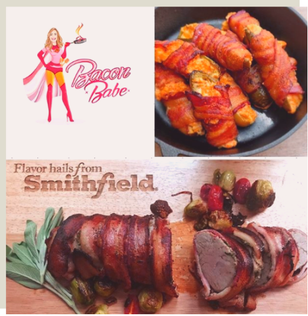 Do you have a guilty food pleasure? We've heard it's Bacon. True? 
Well, you know, I wear the title of Bacon Babe proudly! I have always preferred savory to sweet, so I consider bacon an essential-- whether I'm eating it stand alone with eggs in the morning or wrapping (anything) in it! One of my favorite recipes for entertaining is inspired by a John Gorham recipe from Toro Bravo. These bacon wrapped dates with spiced honey are totally addictive. That combo of the smoky bacon, sweet dates and the kick of spice with the honey glaze -- always a hit at my parties! I always ask people what their last meal would be-- and for me, it's crispy french fries dipped in tartar sauce-- (I know, weird, right?) With a side of thick cut bacon, of course! 
Is there a Kitchen utensil you can't live without? 
Definitely the food processor. Whether I'm making that delicious, herbaceous marinade I mentioned above or a pesto, it's something I use almost every day. SInce I have a gluten allergy, I often will put pistachios or almonds in the food processor and use the ground nuts in place of breadcrumbs or panko-- it works amazingly well in meatballs and in savory dishes that need a binder.

Making a career isn't always easy. How did your path look to get to where you are today?
Wow-- we might need a few bottles of wine and a long night (or two!) to tell the whole story, LOL! The short answer is, my contract as a TV reporter wasn't renewed in 2009, right when the recession was in full bloom. So, I needed to figure out an income stream. I cashed in my 401K, applied for unemployment and tried to figure out my new path. I launched a personal chef business that quickly tanked because no one was hiring a chef when most people were just trying to get their mortgage paid. I was doing some freelance writing here and there, but things got really tough financially. I ended up taking a job waiting tables, which I hadn't done since my early 20's--- it was really humbling. A friend at the time said, "Wow, Parker, this is a real fall from grace. You were a well known TV reporter and now you're out hustling at a restaurant." But, I couldn't afford to manage what was left of my ego-- I just had to keep the lights on. And believe me, they were turned off a couple times in those dark, broke days!
I had applied to culinary school, but it quickly became apparent that I couldn't afford to go, so I got creative and talked my way into the best possible hands-on training program: I convinced the head Chef at the restaurant where I was waitressing that I would work for free for him in the kitchen on my days off. It was one of the best decisions I could have made at the time. Over the course of the next few months, I learned how to debone a giant salmon (working in a freezing cold walk in with a winter coat and hat!), how to split and stuff a lobster and what ingredients worked best to balance sauces.  
When I launched Parker's Plate in 2013, I adopted the same mentality to learn from everyone that I could glean insight and advice from. While most people have a perception that I'm just the on-camera talent, the real story is that behind the scenes, our team is producing content, doing large scale media buys and negotiating contracts. None of those "skills" came from culinary or business school - it was a combination of grit, passion and sheer survival at times. Things almost never turn out the way we expect them to, so it's imperative to be open to shape shifting and adjusting to align with the opportunities.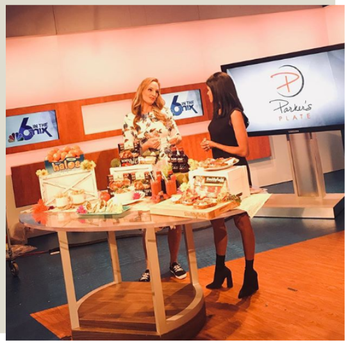 Today, my business is far more diversified than the original blog I started with recipes and one-off TV sponsorships. I realized early on that I couldn't scale the business if it was just me as "talent." So, I started hiring other people and training them to go on camera to promote brands and do integrated content. Now we have an office in Atlanta with 2 full time employees and we are booking between 30-40 TV shows a month with a rolodex of experts.
Under the Parker's Plate umbrella is a Nutrition subsidiary called, RDTV (Registered Dietitian Television). In the landscape of social media influencers who often don't have the credentials to promote a nutrition driven brand, our RDs are highly qualified experts, authors, national ambassadors and also have the credibility that many "influencers" lack. It's the perfect example of discovering a niche in the world you're moving through and maximizing those opportunities.
If you asked me 5 years ago what the dream job was for me, I most likely would have told you that hosting a show on Food Network was it! But now, having created something that is growing and scaling in ways I couldn't have imagined, it is the most exciting thing I've ever done. I can't wait to see where it takes me next! 
Looking back, would you do something different in your career today? 
I recently took a trip to Los Angeles and drove by the first apartment I lived in by myself, back in 1999. I pondered that exact question, looking up at the balcony of apartment 404… I thought about that 22 year old girl who was unsure of herself and her path, and all of the hard lessons she would need to learn over the next 20+ years. And then I thought, "I'd like to hug her and push her hair out of her eyes, lift up her chin and say, 'It's going to work out just fine. In fact, it's going to be better than you could ever imagine. Just keep believing in YOU." So, I wouldn't change anything, because all of those missteps and mistakes over the years have informed the person I am now and I'm stronger and smarter because of them. 
In today's online and TV world you have to assert yourself again and again in order to remain visible. What is your recipe for success? 
One of the best pieces of advice I received early on and still hold close is to hire out your weaknesses and focus on what your strengths are. I'm great at sales, but not good with administrative details. I'm really strong in the area of broadcast TV, but feel overwhelmed and burned out by the changing analytics and strategy on social media. So, when I could afford to put money toward those areas of weakness for me, I did. Taking those elements of the business off my plate and allowing someone else's skill sets and strengths to shine on behalf of Parker's Plate was the best decision! But don't mistake staying in the lane where your strengths are with NOT taking risks. I always think it's a valuable exercise to get outside of your comfort zone and push yourself to grow in ways that feel uncomfortable. If you get nervous speaking in public, for example, start doing it! Even if it doesn't develop into a 'talent,' it's important to know you CAN do it and pull it off when you need to. I was terrified to negotiate anything in the beginning of my career, especially if it was advocating for myself. Now, it's the best part of and the most exhilarating part of my day, whether I'm doing it on behalf of Parker's Plate or another talented expert we're working with. 

Tell us what's driving you? 
I think that there is an inherent motor in all of us-- and you're either born with it running on high octane or you're not. Sometimes it's a blessing or a curse to be motoring on high speed all of the time because I have a hard time relaxing and bringing down the intensity. I recently posted on Instagram about a piece of art I commissioned to honor my version of "meditating." Let's just say that it isn't exactly a traditional beach scene! What I've learned, though, is that it's important to honor what motivates us-- and that's something entirely personal. It's also something that inevitably changes as you and your business grow and your priorities shift. For me right now, I'm most motivated to continue growing the business and expand our reach nationally on multiple platforms (broadcast, digital, social, etc).

From your point of view: What are the future Food- and Nutrition Trends?
You heard it first from The Bacon Babe herself: "Plant based" is a trend that we will continue to see more of as more companies diversify their portfolios to include those options. I think alternative flours like cassava and coconut, for example, will become more mainstream as people opt for gluten free and anti-inflammatory solutions. We're also going to be seeing more mocktails in our future, with "Dry January" becoming more of a lifestyle choice.
Your ultimate New Years Eve Party Food Recipe? 
Stuffed Mushrooms - this is my New Year's Eve (and ultimate party FAVORITE!) These stuffed mushrooms are a game changer! I've had so many friends make these with a ton of success and anyone who tries them always requests the recipe! 
Thank you for the interview.