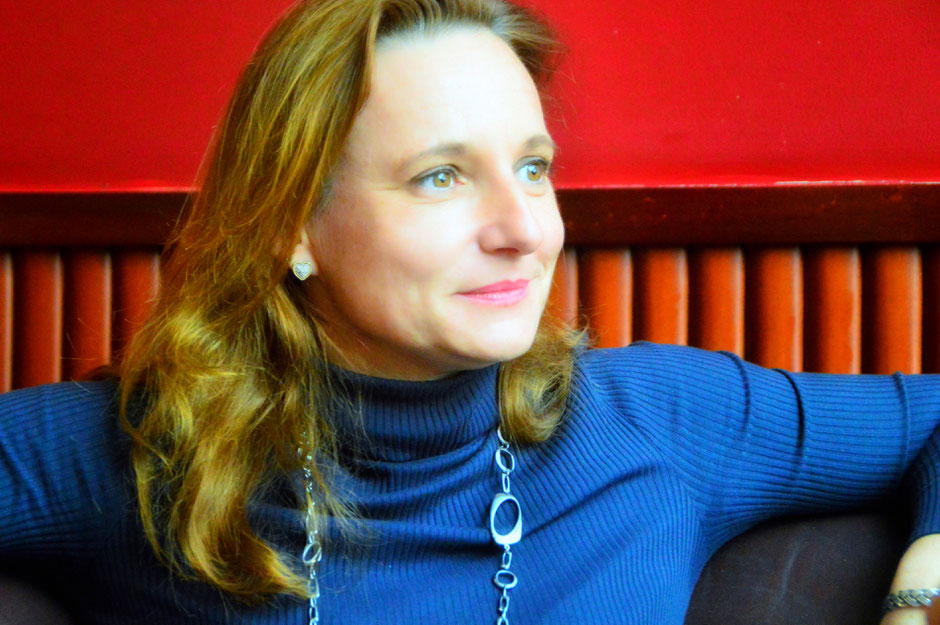 Already in one of the first sentences we hear from her she says that she is "reflective". An actually technical term. Actually. But Dr. Babett Gutsmuth's words reveal so much more. In a time in which fast-paced life, haste and ego seem to dominate, and less the perception of the other, the listening, the genuine interest in the other, she confesses to be reflective. The Duden describes it as reflective to use ambient light as a source of light. What a strong, meaningful image.
How did this woman manage, in a traditional world of men, in a technical world, not only to keep her eye and ear for the other, but also to create the source of her own success as a manager for a well-known German brand in the Middle East? May a German journalist in the Emirates be allowed to reflect this seemingly anachronistic idea.
We'll find out in time. Classy Dubai does not meet with her in the air-conditioned office in Dubai. The place of our interview speaks for her: The Fine Art exhibition in Ras Al Khaimah. This choice reveals the aforementioned, her own open, unorthodox style, which she would call reflection.
Before we turn to her presence as a manager at a very well-known German brand, we're interested in where this woman comes from.
She grew up in a well-established household in Potsdam, the city of Frederick the Great, a supporter of the Enlightenment and reformer of the Prussian state. Growing up Christian (brought up) under GDR conditions, she learned as a child to think about the circumstances; and to deal with the fact that she did not always "conform". No simple situations. But probably the foundation stone for her current resilience; to understand shock-resistant challenges as an occasion for developments. "It has shaped me to hold out even when it is not easy and to articulate what I expect."
She thinks about her life plan just as early. What does she want to become? On the shortlist: pharmacist, actress or pastor. Actors and pastors, however, have a rhythm that poses a greater challenge to family life. They are almost always on the "stage" when the family is together.
So Babett studies pharmacy after high school. Her world view comes from "looking at the world" and so she goes to the research laboratory of one of the most famous universities in the USA for some time at the end of the 90s. Back in Germany, she gets to know the life of pharmacies and the "looking" doesn't stop - and her curiosity, her urge for knowledge. Because it seems to her that the endless test series for her doctoral thesis consume unnecessarily much time, she optimizes the test series and can finish them faster. In 2004, she completed her doctorate in the field of pharmaceutical technology and, working on a large scale in industry, discovered that she was the most enthusiastic about this. Soon she was in charge of quality management and later an entire production area of a cosmetics manufacturer.
These positions have not fallen into her lap. But she is highly educated, original, determined and unconventional. Once the young woman without all leadership experience - apart from the one in a small town pharmacy - convinces the managers of her leadership skills by means of the story of how she brought an entire village to its feet to build a children's playground against all odds. Perhaps it is only there that she becomes aware of this talent and the joy it gives her to develop people and organisations.
And, of course, managing human affairs is not always easy for her either. Especially when, in her young career, it means breaking up the grown routines in the comfort zone of an already taken over workforce. At the outset, those affected do not welcome the optimisation of work processes and the associated organisation with vain joy.
She has to deal with rejection and she can. But she analyses, convinces and asserts herself. Questioning conventions and showing teams new ways is part of her leadership approach. Success proved her right. The plant's quality score rose from 59 to 90, one of the best in the company. She just reflects. Or as she puts it. "I love to inspire the people around me to outgrow themselves".
Meanwhile she has two children "according to plan" and declares to herself "Before I turn 40, I want to do something new for my job". She does that at 39 when the call comes from Dubai.
How did this happen? "Very unspectacular. I used an opportunity to apply for an internal tender to set up and manage Regional Quality Management for the Middle East region. The Middle East has always fascinated me. I always thought of 1001 nights. I always found that exciting. To be honest, I was never afraid to go to this part of the world. The task appealed to me, not Dubai. In the beginning I had no relation to the city. She was never on my private travel list, too 'artificial'. But every city always lives through the people who live in it ...".
No question, this is a quantum leap in many ways. How does work and lifestyle a la Dubai influence your career and personality? Babett quickly gains unexpected experience in the Emirates, in what she calls an "agile, volatile region".
"I have noticed that the focus is rapidly shifting to how to influence certain situations and solve challenges very quickly. Here you become a 'Business Developer' and are not 'trapped' in your role. I appreciate the incredible diversity of cultures and beliefs in such a small space. It's also easier to build a relationship with other people here. Almost everyone is in a similar situation: far away from home and without the family, they are on their way to success. On the other hand, you learn to live in this worldwide unique fluid with the fact that people who have grown fond of each other go and new ones come again and again.
A school of life and for life. Especially for my children it was an enriching step to come here. It is completely normal for them to have friends from completely different cultures. In this society, which is characterized by coming and going, they learn to regard permanent change as the normal. They discover how many different ways there are to shape their lives and not just the one we "learn" in our culture.
I ask if Dubai helps with a career. "Absolutely. With this step - better jump - she collects experience on how business works with different nations in her field and in general. In Dubai, literally every nation in the world works - and its business people. And last but not least, time in the Emirates is a point in one's life that cannot be valued highly enough: There are few managers as successful and experienced as she is, with this international experience, cultural and language skills that have become so important in our converging and more complex world.
The radius of action of Babett Gutsmuths also extends far further geographically than we imagined. In addition to the Middle East in regions as culturally diverse as India and Africa, for example, or Turkey and the CIS states, Babett Gutsmuths is responsible for the quality management of a global cosmetics brand, from sourcing and production to market and consumer feedback. Especially in fast-growing regions, it is essential to set the correct quality focus right from the start in order to achieve continuous success. This is sustainable business development.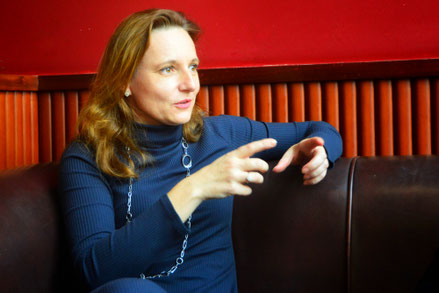 Still her "I love to inspire the people around me to outgrow themselves" in my ear, we ask about her recipe for dealing with people from and in different cultures. "It is important to see each individual employee as a person with individual strengths and needs. In my opinion, it is the task of a leader to recognize, promote and serve these strengths and needs. This applies universally without any difference with regard to cultures.
I think it is extremely important to approach everyone in a positive and open manner and to remember this again and again. Especially when it's difficult, because of different understanding of the topics. My 'standard', my 'language' are perhaps not those of my counterpart. Find the way on which both - the common task in focus - can go. This is more sustainable than giving instructions and waiting to see what happens."
She puts her finger on any neuralgic point. Even in a factory that she enters anew, in a man's world, Babett does not allow herself to be tempted by oriental, long-winded stories. She finds the problem and insists until she gets the answer. The expert herself inspects facilities, rooms, pipes. If you have her knowledge and experience, you can ask exactly the right questions. And she doesn't stay in the conference room; she asks where the hot air flickers and yet the precise temperature for German quality cosmetics must prevail, whether in India, Africa or here in Dubai. Certainly, some people may find this unfamiliar or unpleasant, but this is how she gains respect.
"The working culture in the Orient, in Africa differs from that in India or Europe or elsewhere. But it can be developed together and you can build on it. I was lucky enough to be able to help develop a team that supported itself over thousands of kilometres and even built up private relationships. This in turn promotes understanding communication in working life. Clear communication is the key. Really listening, really wanting to understand, clearly formulating one' s tasks.
Dr. Babett Gutsmuths – The Interview
Sometimes one has the impression a considerable number of people are planning a holiday more carefully than their lives. Working, succeeding, leading in our fast-paced, global and digital epoch ... what should one think about?
Everyone can and should concentrate on what talents they bring to this world and try to understand how they can make a contribution to everyone.  Be a "humanitarian".
Very important from my point of view: to recognize one's own value and from this position to self-confidently understand differences as an opportunity and enrichment, not as a threat.
Have the courage for vision. Without a goal you cannot focus your power. Formulate the goal, but expect to change yourself or the goal, if you realize, that doesn't fit anymore. Stay connected with yourself and check regularly "Is this still my life? Find your source of strength and use it.
Reflect. Cultivate a feedback culture. Watch how you arrive, what works. In this way you will learn to distinguish honestly beneficial feedback from those who are supposed to manipulate you. If you're lucky, you'll find a mentor in your working life early on. Seek him. Find the closeness, the advice of the successful.
As a leader: love your employees. Formulate clear goals and analyze the results. Let your employees grow. Show them their share of success. Be reachable for them. Have an open ear, listen. You can't solve everything, but you can learn. Be human.
Everyone has his role in life, which one is yours?
Ha, not so easy. I have several roles - mother, daughter, manager, colleague, friend...
I see myself as part of a whole, a "big puzzle", with the meaning to use my talents and to inspire and support the people around me. With my example, I also want to encourage young women in particular to follow their professional path confidently - no matter where I am, in Europe, here in the Middle East, India or Africa. Also to convey confidence in a higher power that has "sent" us into this world, to recognize and develop our talents and not to let fear "rule" over us. It is impossible to go it alone. I see it as our common destiny to share all the knowledge we have gained with those who can continue to work with it.
What is your recipe for personal development?
Have a plan. Be determined, but not rigid. Go out into the world and discover other cultures. There you develop your own style. Stay true to yourself and obey, respect, love people. You don't have to love everything they do.
Really balance the time for business and family. Plan time for yourself - for sports and meditation/reflection.
What tips can you give to readers who want to make a career in Dubai ?
Be open to other cultures and "use" the differences as a source of experience. Accept: Some things go faster, other things slower than usual. Quickly form a network and keep in constant contact.
Enjoy the beauty of the country as a counterbalance. Running on the beach, one of the stunning spa's, the desert, different cuisines, arts.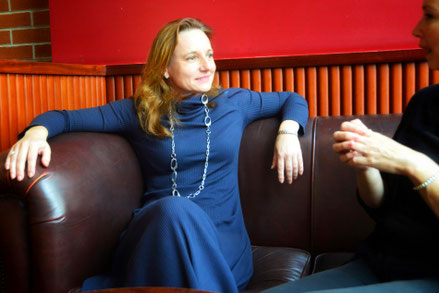 What inspires you?
The life of different cultures. To see how different things are dealt with. It opens my horizon. When someone says, "Think out of the box, I say there is no box." That's not one of mine, but it's a description of my approach. Conversations with interesting people on different topics - even outside the business - are a source of inspiration for me.
Is there a motto of the Babett Gutsmuths?
My life motto: Become the best version of yourself for others and for yourself.  My leadership motto: "Empower & Develop": Enable the team to work and decide independently. 
Our long exchange of ideas and our photo hike through open air art are over. We still have material for dozens of exciting conversations. Classy Dubai will continue to accompany and reflect on the Babett Gutsmuths' journey.
Thank you for the interview.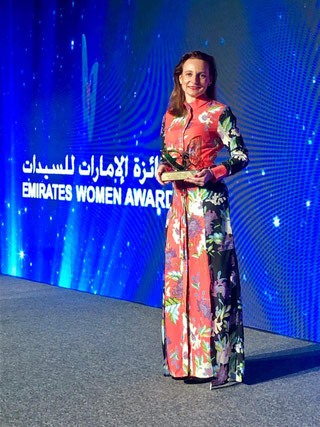 Update 19.05.2019 
Dr. Babett Gutsmuths Gewinnerin des Emirates Business Awards 2019
---