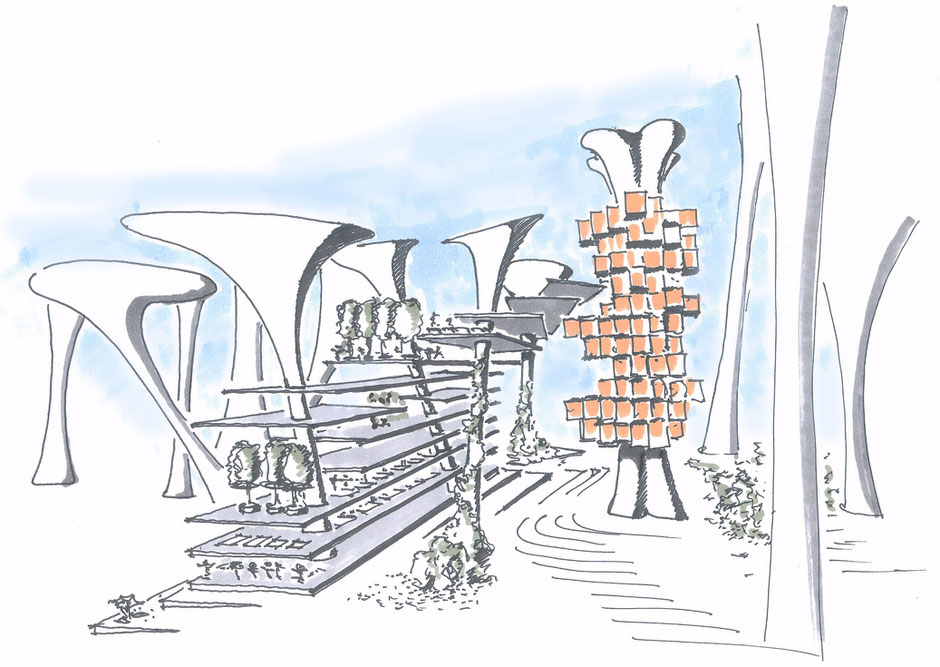 The Cloud One Project by Matthias Ditsch
Read the second part how it pays off and that everyone can have a decent living space.
Aquarius Living LLC's Global Housing vision requires holistic solutions from the ground up?
Today, great challenges can only be solved globally. However, I believe that every person who thinks normally has understood this by now. Yesterday there are always eternal ones, but if intelligent societies courageously think into the future, positive results will quickly become visible.
Can this be paid for?
Yes, certainly and with new money - Aquarius Living will offer and market new forms of added value. We are taking big steps into the age of global currencies and completely new monetary systems (Bitcoin, Libra, Ethereum). There is much that sounds utopian now. The nice thing about real estate is that, unlike companies, it is relatively easy to create profit and value. If everything is thoroughly planned and properly implemented, if the concept fits into the region, a house - as soon as it is usable - will also develop its business component. Then this value can be calculated as the equivalent of the money created before and accordingly the money then also has this value. It is not without reason that real estate is often referred to as concrete gold. 
And houses are truly more meaningful valuable objects than stupid gold bars, which must be secured dearly in safes and are usually fetched from the earth under inhumane working conditions. Most of the gold lies dead, without use. A thought of value from very old times, completely senseless! The purest waste and actually a destruction of value.
A good real estate project, on the other hand, has a high value after completion, which can be used sensibly on a daily basis. In addition, there is an increase in value through the use of the properties. This adds up to 150 years (a realistic lifespan for a good property). 
From construction to occupant, this is about 50% profit margin. If this is distributed fairly and transparently to all parties involved, everyone knows what he has and what he gets. Then one can calculate projects also for 50 years or longer. A good house will last at least 100 years if it is maintained and modernised. At Aquarius Living, the entire project cycle is considered and converted into completely new participation models.
In the future, Aquarius Living will create long-term assets in which the residents get their fair share, because it is they who pay and pay and pay for years to come. It's frightening how many tenants let themselves be milked for life because they can't accumulate enough capital to get financing and break out of the vicious circle.
With Aquarius.Living we will bring fair rent-to-own models onto the market, where the tenant builds up a fair share of the real estate assets month after month with his rent and thus, for example, lives rent-free from the start of retirement and can also bequeath the real estate to his children. The property serves as security. Investors who receive a fair share of the long-term success of the building (e.g. approx. 5 - 8% per year) benefit, but tenants are also integrated into the process of asset growth (e.g. increase in value, inflation hedging, return).
We already hear the experts among our readers asking for the technological details and figures ... 
BIM (Building-Information-Modeling) and Blockchain automatically managed digital assets can be used to calculate and manage real estate projects over an entire product cycle. AI tools and Big Data also provide a lot of information about where which buildings are needed and which models are successful. From this circular economy model we generate permanent profits, experiences, improvement potentials, which are then distributed fairly to all parties involved. 
Through the planning and permanent optimization of all building components (architecture, energy supply, services, construction methods, etc.) based on real needs, highly effective and at the same time needs-based and thus successful buildings are created that enable long value retention cycles (approx. 150 years). This potential flows back into the product cycle. Profit machines are created and make Living cheaper, also because the residents participate in the profit model. 
Another aspect. Many houses can generate energy, run agricultural farms or restaurants and enrich life in the area with countless other services. The residents benefit from this and at the same time increase the local quality of life. 
To put it directly: Ask which real estate investors wanted to live in the loveless, inhuman concrete boxes that they sell or rent? This negative aspect in today's short-term real estate market, which is only looking for maximum returns, will be able to turn their ideas into reality through the Aquarius Living models into positive long-term value creation models with a high quality of life and satisfaction for the residents, because they are also directly involved.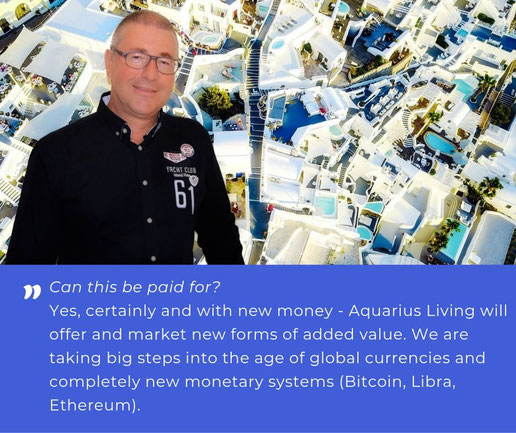 Where is there room for these cities?
Aquarius Living supports the concept of Floating Cities in order to guarantee the need for living space for an expected 10 billion people soon. Also to be prepared for the possible consequences of climate change, it makes sense to create living space on the water. From a political point of view, if these floating cities are located in international waters, refugees or people seeking a better life could find and shape a future in their home country because it is not possible for them for various reasons. 
The UN supports developments in this area because it knows that this can be a solution for the future.
Especially mechanical production methods and modular construction methods allow cities to develop a great flexibility on the water, which will be highly appreciated in the future. Anyone can dock their small private island to a million metropolises or temporarily live alone in the ocean, communities can fluctuate and grow, move on, change. Cities become more flexible and can therefore be built to meet demand.
You are creating a completely new economic field ...
Not only that. An economic and social model! The basic right to decent housing, a home, a bed and clean sanitation will create a global non-profit real estate sector, giving everyone a home that will enable them to bring their life energy positively into the community without having to fight permanently for survival in the midst of unworthy conditions. The world today has the capital and knowledge to provide everyone with what they need. One must "only" organize it properly.
... and to want. Capital is supposedly "a shy deer".
A profit machine makes humane accommodations possible with which also the inhabitants are fair participated, by paying rent and thereby at the profit and the creation of value are fair shared. But also the investors have safe investment possibilities (5 - 8%) and the former tenants build up capital with the time. A win-win situation.
The Aquarius Living Model creates global value creation in a secure environment with social standards and distributes the effectiveness gains fairly to all stakeholders through highly intelligent planning with the most modern methods. 
The Free Cities model emerges.
But how can the reader imagine that? Buy, pay and never rent again? 
Yes, the future resident can invest his capital, if available, in the project, but he gets rent reductions or returns. But the special thing about the model is also: the resident, formerly a "tenant", who acquires part of the apartment without capital from the first month of rent payment. We calculate different models (e.g. 1%, 0.5%, 0.25% of the typical purchase price per month). In addition it can pay in at any time more and has so the motivation to save and fortune to develop and gives thereby also to the fund more capital for further projects.
Free of banks and credit mediators the capital and the profits go only to directly involved ones and investors. That alone is a good 20% increase in profitability for all shareholders. 
What scale for the "resident" are we talking about here? How can investors and interested parties participate?
Anyone can become an investor. Already with amounts starting from 1.000,- Euro one can invest or one simply moves in and pays regularly its Rent-to-Own premium and is e.g. with the model 0,5% per month after 200 months owner of the real estate. For example, a property that is sold on today's market for 350,000.00 Euros, the Rent-to-Own resident gets his property for 0.5% per month and 1,250.00 Euros after 200 months, since at all levels approx. 30% productivity gains reduce the costs to 250,000.00 Euros. 20% reductions in construction costs and efficiency gains in the planning and construction process then go to investors and capital providers. The increase in value over the following 20 years in which the capital flows back (approx. 3% per year, i.e. 60%) flows into the return for the investors and into the maintenance of the building.
These are now the first model calculations to clarify the principles, which can then vary from project to project. Sometimes the willingness to pay more for certain amenities lies in the quality of life. In addition, there are building profits, such as energy generation, farming and services, which offer profit opportunities to all those involved.
"The Cloud One is an innovative concept, which is for highest standards in energy technology, material processing and multi functionality." Matthias Ditsch
We must move away from local, centralised thinking .... 
Aquarius Living is global. We set new standards worldwide in quality and effectiveness in the construction and operation of affordable, livable living space. The company, comparable to a stock corporation, provides expertise in all areas for cost-effective and meaningful planning, quality and sustainability of individual projects. However, each project is calculated and implemented separately as a profit model.
This is the realistic near future. You wouldn't be a visionary if you didn't think ahead. 
In addition to residential and life projects, Aquarius LLC can and has also planned "further" ventures in the truest sense of the word. Each, independently financed and conceived.
A highlight will be the "Project Lotus". A hydroenergetic space launch site in the middle of the ocean, which makes it possible to accelerate space ships under water in such a way that they reach the orbit without rocket propulsion, in order to be able to fly from there e.g. to the moon, Mars or further. The price per kilo in orbit will thus shrink to a minimum and society will be able to reinvest the profit it generates.
A long time of conversation now lies behind us. A conversation that - in a similar way - some journalists have already had before us, with entrepreneurs whose ideas did not appear as of this world at the time: Elon Musk, Richard Branson or Steve Jobs. 
Stay tuned and experience soon how a vision becomes reality. Here on Classy Dubai. 
More Information & Contact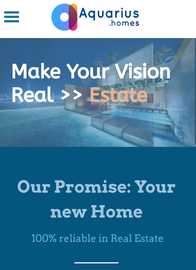 ---
Graphics The Cloudy One by Matthias Ditsch
Photos: Paule Knete
---