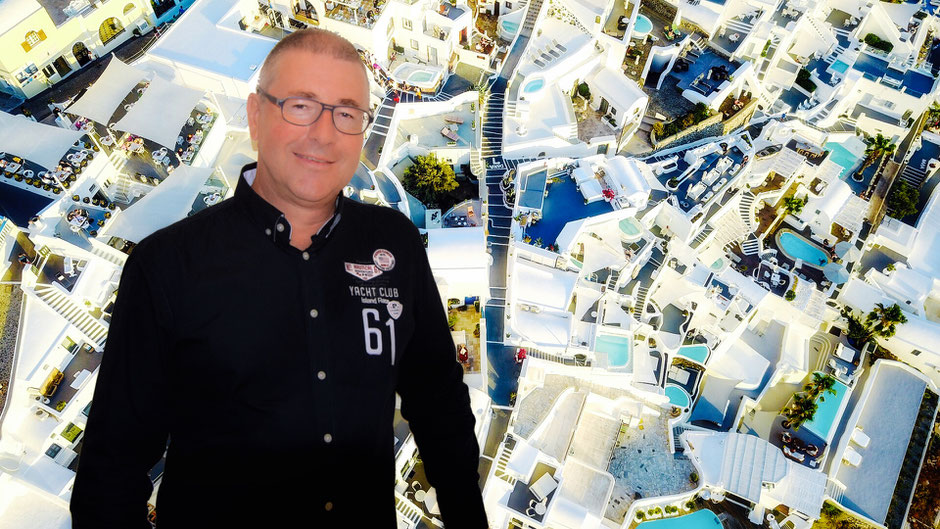 Classy Dubai is dedicated to architecture and living. Houses and apartments are not simply a matter of lifestyle. They touch and even shape our basic needs for well-being, security and safety. They shape our personality. Heinrich Zille once wrote that one could kill a person with an apartment. Johann Gottfried Herder already stated in the 18th century: "As people think and live, so they build and live".
Nowadays, living as life is much thought and written about - I thought. But wherever one looks and researches, buildings are considered banal and unimaginative as structures whose technical parameters, prices and energy efficiency are parried. "The human being is in the foreground" is replaced by "The number is in the centre". It seems to us that it is more important in media and social terms how accommodation relates to norms and costs than to the human being - who is supposed to live in it. Worldwide, there is even a shortage of housing for 100 million people. According to the UN, 1.5 billion people, i.e. about 20% of humanity, do not have adequate housing. And the population continues to grow. Can this Gordian knot - brachially or by spirit - be loosened at all?
Classy Dubai talked about it with Matthias Ditsch, the visionary who won our attention with his thoughts on how to deal with nature. A man who heads for great things.
Can the housing problem be solved?
First of all, yes, definitely! It just needs the willingness to think and act differently, creatively and on a political as well as on an entrepreneurial level.
Which solution approach do you pursue?
Properties are places for people to live there, to give protection and security, privacy, but also places of encounter, of activity.
That is why buildings are:
1st A basic need, the third skin. There is a high willingness of people to do something to have a nice home. Unfortunately, many people are not able to create such a home for various reasons. For financial reasons or because you lack knowledge or access to resources.
2nd Buildings are complex and require a lot of knowledge and skills if it is to be more than a corrugated iron hut. Expert support is needed to steer the commitment in the right direction. With long-term and sustainable concepts it is possible to create great values that can then be distributed fairly. At 214 trillion dollars, the real estate market is already the largest asset in the world.
3rd Well organized this gigantic growth market offers immense chances for many, worth living places to let cities develop - in which humans can live and work. Every person whose basic needs are covered will give back his freed life energy in some form to the community, prospering peaceful national economies will emerge.  This can be seen in the intact and successful regions of this world.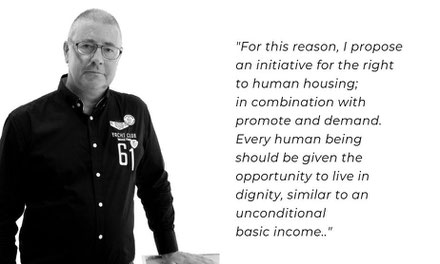 What's going wrong right now?
2 - 3 billion people have somehow been forgotten in globalization. Only the fittest, the strongest have an adequate home today and the fewest a truly humane existence. Does nobody see that? Or does it matter? Even in the richest regions of the world, competition for adequate housing has flared up (see Berlin). There, too, an imbalance seems to be spreading more and more. Namely the - I call it the financially fixed - social order, which continues to cement above and below and takes more and more parts of society the air to breathe. Financial maximization permeates all areas of life. Only the most intelligent, the fastest, the most unscrupulous are the winners. Many get stuck in nothing and cannot shape their lives. That is the problem. It is not thought holistically, but only after the maximum, often very short-term profit for a small group of the participants (developers, owners, financiers), who build as fast as possible and sell expensive as "luxury apartments" - mostly past the need.
There live families with two children in much too expensive 2 room city apartments, because they can not afford any more, or singles in micro apartments, which rather offer enough space for their cavies. Many old people, on the other hand, live alone in 5 room apartments in old buildings because the children have long since moved out. When you then go to the old people's home, you are immediately luxuriously renovated and divided into three apartments. This means that much higher prices can be achieved.
As top of the undesirable developments then super-rich speculate with - best uninhabited - super-luxury apartments worldwide, only in the interest of increasing value. With success! The most beautiful houses and apartments in the world are empty most of the time because their owners have 5 or more of them.
In nature and in the countryside, beautiful villages worth living in actually become desolate, since there all infrastructure has been saved (shops, pubs, open-air swimming pools, cinemas, etc. everything is closed down), because the districts are wrongly structured and badly administered and are not future-oriented enough and the trends of Homeoffice and Coworking have overslept.
These undesirable developments have led to a boom in construction activity, a boom in business, but often in the wrong place, with the wrong concept or in the form of loveless satellite towns. For whom? At any rate, it doesn't suit people.
Are there any realistic ways out?
There are many potentials and concepts to relieve the burden on cities and to create life perspectives for people in stress-free surroundings. The interlinking of city and country to form "integrated regions" creates perspectives and volumes for generous and people-friendly, imaginative living spaces.
Many cities today are cramped, too expensive, too noisy and offer real living spaces only in a few leisure zones. And the cities that are in demand are too expensive and already at the limit of their growth. There are still more than 2 billion people who have virtually nothing to call housing, not even access to clean water or toilets.
For this reason, I propose an initiative for the right to human housing; in combination with promote and demand. Every human being should be given the opportunity to live in dignity, similar to an unconditional basic income.
Is it possible to determine in concrete terms what this means?
Every adult has the right to a room of appropriate size (e.g. min. 10 sqm) and daylight, sanitary facilities, electric light and access to safe cooking facilities, as well as to a human bed, internet access and mobile communication. This is not free of charge, but it can and will be fair, affordable and, above all, made possible for everyone to achieve this through their own activities (I am deliberately not talking about work here anymore).
Just to meet this demand is an incredible boost for all areas of the world economy. I assume that global GDP could be increased from the current 84 trillion (2018) to 100 trillion within 5 years. These are the opportunities each of the soon-to-be 10 billion people deserves to get involved. The opportunity to allow every inhabitant of the earth a decent life is real.
Smart cities and today's technologies offer the opportunity to build, supply and maintain much cheaper, yet sustainable, ecological and comfortable.
How can you structure this vision, cast it into moulds, so to speak? 
With the newly founded Aquarius Living LLC, we will project and realise the first projects with this approach (www.aquarius.homes) and in the future plan entire districts or regions, e.g. floating cities on the oceans of the world.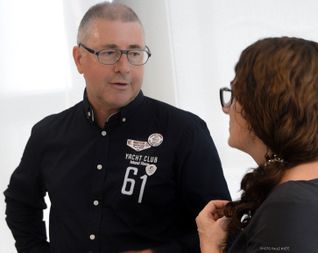 There are some philanthropic suggestions for partial solutions such as toilets for everyone. Can't one take small steps?
No! I find it cynical to offer people only clean toilets, but still allow them to live in lousy slums in miserable corrugated iron huts or worse. 2 billion people live like this, that is a good 30% of all people and we are talking about clean toilets? At least 100 cities the size of Dubai (today approx. 3.5 million inhabitants) are needed as soon as possible and this is ecologically and economically realistic! A few clean toilets are not the solution.
The money is there! The people are understandably afraid to invest it and risk even losses in value, instead of investing it lucratively in the construction of infrastructure. An investment that can be fun and profitable for centuries. There are also no investment models to build a house as an individual with a limited budget or to invest in large projects with small sums.
Nowadays it is a question of steering the achievements of technology, business informatics and sustainability into new models of the global public economy and thus bringing the seemingly "dependent" of globalisation back on board. But this requires the courage to think and act globally and over the long term for three to five decades.  
More information & contact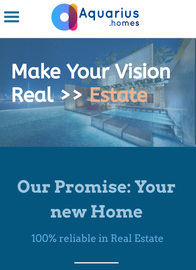 ---
---