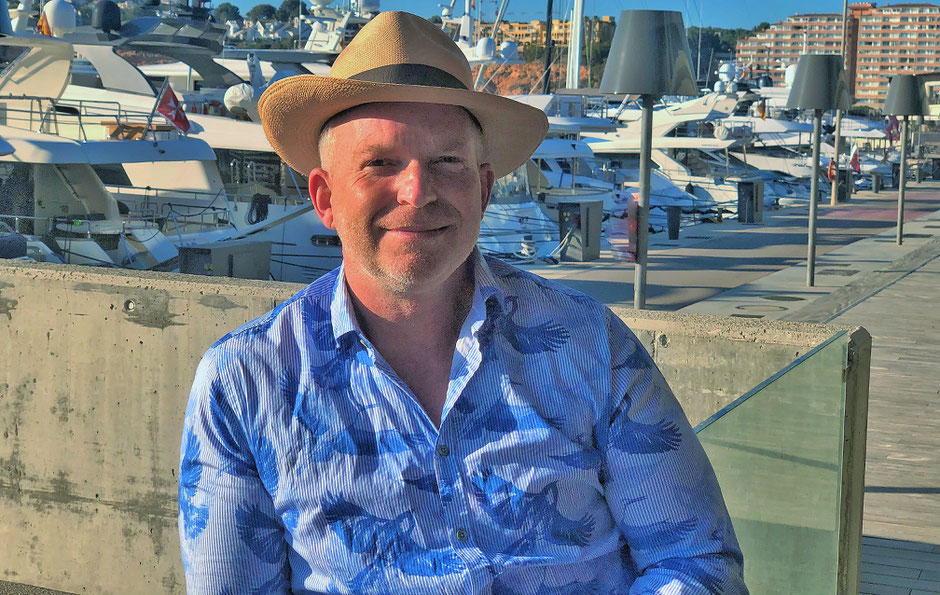 A German entrepreneur who has successfully established business in Spain and the Emirates with various projects and made a name for himself as a coach, is a guest at Classy Dubai - Alexander Elias Müller. He is to be experienced week by week in Webinars and on familiar with most diverse business fields. Does it mean carrying coals to Newcastle when you create a millionaire lounge via Dubai? Travel, trade, coaching, online presence require the whole man. In our interview, he tells us how he can do this under (s)a hat.
Who is Alexander Elias Müller?
Yes, who am I? Elias is a little bit my stage name. It was once determined as my original name and that's why I like to use it. Preferably "Alexander Elias". I was born in Hanover in 1971, but moved to Berlin very soon. So I noticed the metropolis and felt that I wasn't quite my thing. I also noticed, what I do, must become somehow different. During my training as an industrial businessman, I already knew on the first day that this was not the right thing for me. Already with 12 years up to the Abitur I had side jobs with my father, at times two, three, four different and earned good money with it. I must have been around 14 when I first earned 1000 DM. Finally, in 1996, I went logically into financial services. I was then able to experience everything from high finance to insurance sales and equity investments up close. I sold real estate shares, we bought houses and much more. In my life I have already achieved well over 100 million sales. That was the occasion and the opportunity to say that I would like to live somewhere else, preferably where there is a lot of sunshine. The special challenge, both in the financial services and in the real estate sector, however, is the local focus. Thus I made the decision for me to enter into the topic on-line marketing, network. Businesses that can be run from anywhere, no matter where you are; preferably completely digital. And that's where I've been since 2011. At the beginning more cautious, but meanwhile all my projects, except one which is haptic, are exclusively internet business. The result of this is that I am globally active and can benefit from absolute internationality.
Business & Mindset
I believe Mindset, the inner, spiritual attitude to one' s goal is important for everyone, for experienced entrepreneurs, but especially for those who want to become businessmen. What does it mean to be an entrepreneur? Many people think that being an entrepreneur only means: I earn a lot of money. However, I believe that everyone must first decide how, and that it may be possible to go in the other direction and perhaps also down. I think that is very, very important. It is part of the positive mindset, because when the headwind comes for the first time and I am not prepared for it, then it can be very difficult. The mindset is not about seeing everything positively, but about being focused on making the best of situations and learning from mistakes. When I break my leg, it's anything but beautiful, but the advantage is that I can finally read the books I've always wanted to read. You have the peace to deal with yourself and see how you can turn this situation into a success.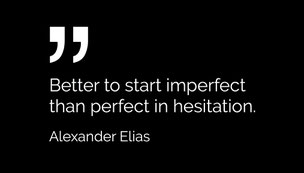 The Alexander Elias Müller-Mindset
The Entrepreneur Mindset in my coaching leads to finding your true goals. We all often have goals. The typical is often, I want a house, I want money, I want a great car. But are these our true goals or are these perhaps goals that have been given to us by advertising or marketing campaigns or by our parents, which may not be our real personal goals? But if they are the real goals, why am I still without motivation? I am convinced that the rabbit is in the barn. If I am honest with myself and find out my true goals, then I have motivation, then I get up in the morning, I don't need an alarm clock, I just don't need any other motivation. The most important thing you will find in my course is
1. Your goals in the immaterial field
2. Your material goals - what are my true goals?
3. Your daily success guide, which you should keep afterwards. Mindset is like brushing your teeth for your soul. We will not stop brushing our teeth. Mindset is also a daily activity. I'm not talking about hours, I'm just talking to myself for 5 to 10 minutes a day.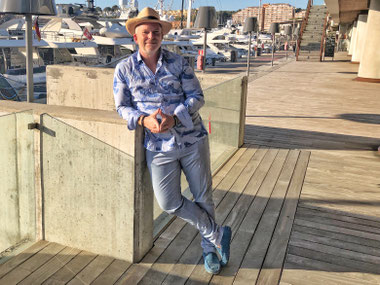 Business in Dubai vs. Business in Germany
When you come to Dubai, it kills you. I don't know how often my mouth remained open when I came to Dubai for the first time. The city is simply crazy. I think it's important to put it into perspective and understand that everything here is very much geared towards public perception. Very American, also in terms of thinking. That's the reason why it's so important to have a reasonable public image. So if you have a website, then it should really fit the target group and the topic. So should your business card. We pay attention to this because here you are dealing with people who have a strong external impact. In view of the multicultural society here in which everything revolves around business 24 hours a day, seven days a week, reliability makes sense and creates trust. The real business here, of course, is very much different from Germany. Many Europeans need years to understand this, because many things look similar. But that's a huge deception. I had the huge advantage of having moved to Mallorca a few years ago. I was told that if you expect your German punctuality from others, you will sink over there. There is a lot to it and I am a very punctual person. I also say that who is not punctual is bodily injury, because one abuses the time of the other.
However, the cultures here are totally different. On Mallorca Fiesta is Fiesta. If I insist on punctuality in Dubai or that things really always happen the way we know it from Germany, then I will be annoyed a lot, I will have many problems that I can spare myself. If I make an appointment at 10 o'clock, it may well be that it doesn't start until 11 o'clock, but you just have to be prepared for that.
Successfully save money
What does successful money making and saving mean? There are things we almost all do ourselves, such as booking flights and hotels, whether for business or holiday travel. How about booking with booking.com and get 4-5% money back directly on my account? Or how about if I book a flight with Emirates from Dubai to Hanover and get 1-2% as a refund, immediately on my account. That means "get money in real time", which you can also get paid out. Especially entrepreneurs often have high travel costs. If it can already save here, that is a clear advantage also for enterprises.
You can buy many things in shops, which are also available from the world's largest provider, but by my solution again 10 to 15% cheaper. That makes it interesting for everyone. Why should I not get this 10-15%?
Another example is gold. If I want to buy gold and am willing to wait a little longer, I can get up to 50% discount - on real gold.
Or I would like to park my money a little more profitably than normally and have a possibility to have it done fully automatically for me, with full access to my capital ... . We have created a solution package here, the Win Win situation that has become life.
Millionaire's Lounge
Why Millionaire's Lounge?
On the one hand, the aim of the lounge is to provide a meeting place for people with this aspiration or goal. "Why is a human being a millionaire? We have a generation of heirs who were born millionaires. But there are many more who have become millionaires "self-made". Was that just luck? Were they more beautiful or smarter, more open, better or faster? To be honest, they had one thing - the better information at the right time. In the Millionärs Lounge we pass this information on. Where do you have the opportunity to save when buying gold? How do you create a reasonable mindset that enables you to process this information in a targeted way?
Dubai Network and Business
It is true, Dubai stands for Business and Network and how does the company Entrepreneur Dubai manage to connect this?
A very simple recipe. Our participants can easily recommend everything that is underpinned by Entrepreneur Dubai  affiliate programs; extra for each program. When travelling, there is money at different levels. So is gold. The customers are always paid directly by the providers, not by the lounge. And the nice thing is, we have designed an app for it. A so-called web app, which they always have on their mobile phones. It is personalized and you can immediately send information about travel or mindsets etc. via social media, Facebook, WhatsApp, email. If my lead uses the recommendation, one guesses it, I earn money. Since we always have our mobile phone with us, I networked myself and my business in this way nowadays. One thing is certain: the Internet has made the world smaller, brought us closer together and given us the opportunity to earn money around the clock, 365 days a year. This is how millionaires are made today.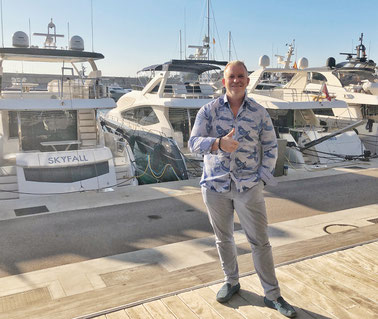 A day in the life of the entrepreneur Alexander Elias Müller
I used to be an absolute workaholic, 13 or 16 hours were possible without a weekend. That didn't really make me happy. Today I know that the Internet can do it differently. Ultimately, what matters is what you do and not how much you do. Today I get up in the morning between 5.30 and 6.30, without an alarm clock, then make my own mindset. Then write my success diary, every morning except Sundays. On Sundays I have no obligations at all. This is an agreement with myself. Then I do sports, really six days a week. That is jogging, body exercises and meditation. Then I really do "my thing" proverbially. I deal with my Internet projects, check the e-mails, I record several videos a day for all areas, which I post on social media. I'm always looking for new input. Check, reject, and if it's something for me, I test things for three, four months. What proves itself may make it into the Millionärs Lounge. Around 18 o'clock I would like again time for me. My pure working time is four or five hours a day. Every two days I give a webinar on all the different areas. But important for me is "quality time". Time for me, for reading, for learning. That's quality of life for me. Don't need to do. I can do what I want.
Thank you for the interview.
More information & contact
---