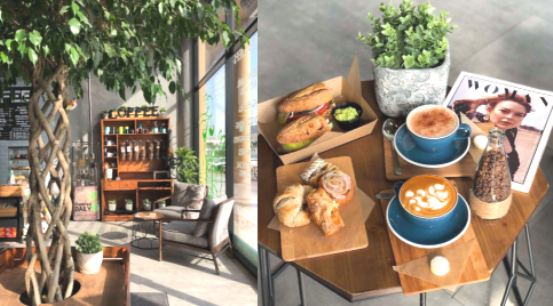 Maxzi – The Good Food Shop - a unique concept fusing café and clean food curation into one. With contemporary chic interiors and holistic vibes, Maxzi's new outlet serves organic, freshly brewed coffee, freshly baked breakfast treats, Real Wagyu beef sandwiches, nutritious soups and mains. Following a simple philosophy of only the best being good enough, all items are made fresh daily and are made with only the cleanest of ingredients. The food emporium/café is founded by Helene Raudaschl. With the vision of bringing forth the goodness of real food and ingredients, the founder aims nothing short of providing only the best food available in terms of quality and wholesomeness. 
By taking people closer to their cuisine, Maxzi brings a fun, new approach to informative learning. "Everything we create is out of love. We see ourselves as educators, caretakers and match makers; through the sharing of our food knowledge and passion, sourcing ethical products to be made readily available and match to the liking of the taste of our community." said Helene, conceptualizer and founder of Maxzi, The Good Food Shop.
" As a café and clean food grocer concept, we pride ourselves in our policy of using meats that are free from fillers, preservatives and food colorings. With the rise in food-on-the-go, preservatives and antibiotics being added to meats, in specific, is common. The idea is to spring free from these harmful ingredients that make it tough for most people to keep track of health, despite having home-made food. An idea tempting to all mothers looking for clean food to their kids, the fresh produce and delicious everyday ingredients provide wholesome meals that are affordable." she added. 
The best part about a café that doubles as an all-around clean food grocer is the fact that every meal is created with only authentic, real ingredients by people who understand the importance of the same. Clean ingredients are the first choice of chefs not only at Maxzi but around the city. Knowing food and preparation better than anyone, chefs prefer the non-GMO, artfully crafted ingredients, locally grown produce, meats, poultry and seafood. With ethical animal welfare standards, artisanal charcuterie all chosen with deliciousness and nutrition, Maxzi is set to be the bridge for honest, good food and smart choices for health while fostering a strong bond with the community. 
This new location will stock a range of Mazxi's finest grocery offerings sourced from around the world with a focus on handmade, additive free items that will ensure the highest standards of quality and flavor. They also have a full Butchery for you to select meats you cannot find in your markets and are the only butchery in town with the boutique award winning Mayura Station Wagyu "The Chocolate Fed Wagyu". Even the coffee beans are harvested globally from fair trade farms and roasted locally. The cafe uses beans that are home roasted so as to provide maximum freshness that is ethically crafted by passionate coffee drinkers. Following their basic message of "Only the Best being good enough", with their 20+ years of experience in food, Maxzi is not a gourmet store but rather a local market with carefully selected produce of great food for a thriving community and giving families a piece of mind on what they are eating. 
---
---
---
---