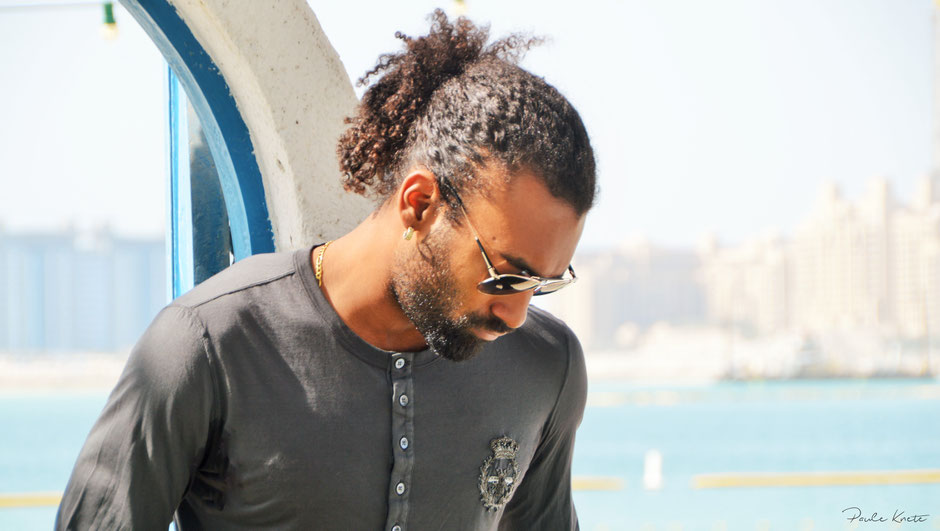 A few weeks ago, a message landed on our desk, signaling that Drew Vision, a rising R'n'B star in USA, is coming to Dubai. Our music loving friends heard about him already and sent us a YouTube link. Not only his "Without You", is a potential hit. 
Finally, we met in Dubai, the humble and charming Drew Vision with his manager Ron King, former Senior Vice President at TIME Inc. for a photo interview. 
The ambience of the Westin's beachfront restaurant provided the perfect set for a talk and photo shoot with a singer full of soul, peace and emotion. 
It was a pleasure to chat with Drew and Ron. It was not just an interview; therefore, we decided to publish the full-length text. We didn't know where to cut. Take your time and appreciate the opportunity to be on board now, when a new, endearing star starts his #thetakeover. It's worth reading it.
Burj Khalifa on the vision board
Ron King: Drew is a singer, model and actor. He has been doing all of those for about 10 years. And then just recently he has realized that as much he loves being in the studio and recording projects, he loves to be on stage. And so we really set out strategically to book as many live performances as he's happiest on stage. And so all around Los Angeles we started booking some really major venues, .. like I don't know if you've heard of The Roxy or The Troubadour, like really famous Rock'n'Roll places. So he's been taking those stages. Then about three months ago he said to me that he wanted to focus on international performances because it's important that he has a global audience, like he thinks a lot about his sound and he wants his sound to be global. So then we then built a vision board and put destinations on it, to sort of help guide our thoughts. And Dubai is on the vision board and Berlin is on the vision board. Next thing you know, we get a call about someone wanting him to perform in places in Dubai. Now we are in Dubai already …
… And so, his live performances are a mix.  In the US he'll do a lot of his original music, internationally the audience wants to hear covers.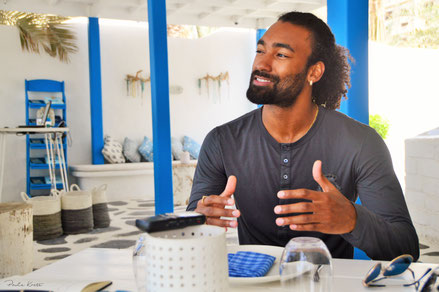 Drew Vison: So, isn't it funny that everything that I said that I wanted to do is just happening one by one, especially like coming to Dubai. I have the picture of the Burj Khalifa on my vision board. And then, now last night we were standing there. So, it's just amazing, you know.
Ron King: And so once this opportunity presented itself he said, obviously Dubai is an upcoming destination, known as being cosmopolitan mixed with both refined tradition and new. He was very interested in the city, so I reached out to a couple of journals, that's how I got in contact with Classy Dubai. Then I reached out to a couple of agencies. He signed with the talent division of Wilhelmina in Los Angeles and we talked about whether we wanted to keep with Wilhelmina or we branch out. But Bareface is a very interesting agency because while being a modeling agency is primary, they also represent singers, brand influencers and actors.
Drew Vision: It's an all-around talent agency. Wilhelmina specializes in fashion and photos. So Bareface is just perfect for me because I do more than that, I'm not just a model. 
Ron King: About Drew's music career: He has made four albums. His last album was released last summer, called "Shades of Summer". He is in the studio working on his 5th album now. It's been great. There is a brand called Billboard, which is really a huge music magazine, which has really gotten behind us and supported Drew. They released his album exclusively and several TV networks started premiering his videos. Things are going great. We are in talks with movie and TV studios.
Drew: And I'm in acting classes a lot, that's helping me be better for camera.
Ron: We were meeting with the president of a Motion Pictures Studio and he asked me "Is Drew ready to be in front of the camera?" And I said, "Every single time." Especially at weddings, every time he goes on stage he is acting. Because to bride and groom this is the biggest day in their life. His stage music presence has done a lot to prepare him and keep in practice.
Classy Dubai: Let's start with the beginning. Could you talk about your childhood and what brought you to the stage.
Drew: I was born in Queens, New York. My parents lived across the street from each other. They were high school sweethearts. They got together, I was born. We always went to church. I had to learn to do something in church. You couldn't go to church and just sit there. You had to participate. So, we either had to learn an instrument, sing or do something to contribute. My father played the piano, he sang, and he taught my sisters and I how to sing and so I've always had to sing in church. I didn't think it would be something I would pursue in life, but then I went on to high school my music teacher told me that I was pretty good. "I think you could compete with your voice and you should consider maybe going to a school for music." I loved music, so I decided I would do it and I got a full scholarship to go to University and studied voice. That's kinda how I got into singing. But I didn't start actually recording music until after school, after I studied it. I put out my first album called "2020". I was literally experimenting to see how I would sound on a recording. Everyone liked it, I liked it and so I continued after that.
You were working for/with Beyoncé and Usher?
I was in one of Beyoncé's music videos. They called me the last minute, they needed an extra guy. " If you can be in a black suit and meet the bus in 30 minutes, you'll be in the video."  I did it. I grabbed all my stuff, I ran, I made the bus, and it took us all way up to this faraway place. And as we were riding up the hill I could hear Beyoncé's voice. But it was a song I had never heard, and I was like, "Wow, she sounds nice." And so, we get there and it's the set of her music video, she's shooting a music video for the new song. I didn't know what part I was going to play but it ended up that I was one of the groom's men. Because she was faking getting married and I was part of the wedding. Can you see how weddings just follow me? So in Beyoncé's big wedding I end up dancing right next to her. And at the end of her video the frame slows down in slow motion and you can just see me and a few people with Beyoncé. That was fun but now anytime when she comes on TV people are like "Oh I know, I've seen you before." So that was cool just to be associated with her and I met her Mom. And then I finally got to meet Usher. Then I started doing background singing for other celebrities as well. I've been doing it for a while. Living in New York helped me be around a lot of things. And then two years ago, I finally moved to LA and now I'm starting all over from the bottom. 
Big moment in a small booth
Is it inspiring for you meeting these artists or do you think, "Okay, it's nice to meet them, but actually I have my own way, I want to do my own thing?"
Yeah, everyone except Usher. Because I've studied a lot of my voice and stage presence from Usher. He is an RnB singer, too. And he is just so amazing. When I met him it wasn't normal. I was like "Oh my god, I love you." I was a fan. But yeah working with all the other people, it's just like what you said, I want this for myself. But it is inspiring because then I see that it's possible. When I'm sitting right next to Beyoncé, of course it's possible.
Ron: The Usher story is very interesting. Since Usher is one of his first and biggest influences. For Drew's last project a random series of events lead us to one of the biggest producers in America, Bryan Michael Cox, who is in Guinness Book of Records for the longest period on the Billboard charts.  So we go to Atlanta, for two weeks locked in the studio, recording the "Shades of Summer" project, which is Drew's last album and came out last summer. We didn't realize - and we'd been there for a few days - that his favorite album of his favorite artist was recorded in the studio we were in. And then comes this moment: There is in this big studio a small vocal booth where the artist hangs out and Drew realized "I'm recording an album in the exact vocal booth, on the same microphone where Usher recorded my favorite album of all time. It was a big moment." 
Drew: It's funny how things just come full circle in my life. It's so interesting.
Do you have role models, people who inspire you besides in music? When you make your music, is it related to your life experiences?
Oh yes, for sure. Especially as I'm a song writer. I tried to make sure that when I'm writing my music it is from life experiences. My role models would probably be my family members. Because I grew up watching my mother be a single Mom for a while before my Dad came back into my life because he was arrested. Then when I got to meet him he came from being arrested to like starting with a job and now he owns his own company and is doing very well. And one of my sisters is part owner of his company now. It shows me how someone else can make nothing into something, that I can do the same thing. So family, for example and also just relationships, friends, traveling the world. When I did my last album after travelling to Amsterdam and Sweden I had more things to talk about. You see more, you learn more by travelling. Life experience is what helps me as a songwriter because if I had stayed in New York and never went anywhere I would have run out of things to say.
Ron: That is a very interesting question because I think listening to Drew's answer like of course people have inspired him, but he is very much a "I-blaze-my-own-path-kind-of-guy." In many ways he is his own role model. None of us have had an easy life, have had anything handed to us, he had to work for where he is now. I think his own future inspires him the most.
Drew: Just knowing my possibilities. 
Your songs are full of heart and emotions. Do you want to keep this kind of music or do you want to experiment in future?
I love this question because right now I'm recording and trying to decide what direction to go. And out of the same I will keep the same music. Because like I said, I went to school for music and I learned how to sing opera, how to sing in Italian, even German like "Stille Nacht". I had to do all these things. Having all these skills and not use them? Just because pop music is one thing, but I feel also I should experiment and do different things. Maybe feature songs with Dubai artists, different artists from different places and push my sound and my abilities as a musician to go further. I don't know where yet I'm going to go, but I definitely want to go in different directions.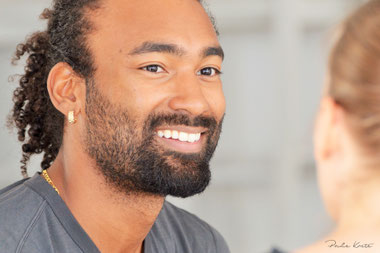 What is your first impression of being here in Dubai?
To me I was stunned because I'm a fan of technology and I just saw this movie called 'Black Panther'.  In the movie it's very futuristic and all of the technology in the movie is like stuff you would dream of. And when I got to Dubai it looks like the movie. It's just so beautiful here. Everything looks new and futuristic. I remember when I was a little kid, there was a cartoon called the Jetsons.  It kind of portrayed what life would look like in the future and we thought it was fake because there was a robot who was the maid of the house. They lived in a tall high rise and everything was floating. All that stuff is now.
Ron: We literally saw a robot at Dubai Mall.
Drew: I love that part of Dubai, but then to see the culture is still ancient, while all this technology is about the future. They are still carrying themselves and they dress in the way of the traditional style. It's a contrast, I love that. 
Is your audience always different or the same?
What is interesting about my audience, I've been doing this now for about 10 years and I still feel like I'm new. Because each time I perform somewhere most people in the audience don't know me, so it's new faces every time. Last year we did a college tour where I performed at different schools in different areas in the states and the audiences were completely different. But they all liked me, which was good. I did some of their favorite songs. Once you do covers, you win them over every time.
Ron: Drew's fans are amazingly good. The girls are easy, the minute he walks out; he's got the girls. Then he seems to have his followers, he has a lot of music lovers. One of the things we talk to talent and booking agencies about is that many people can sound good on an album, but not a lot of people actually sound the same on stage. Because you get do it over and over and with machines to fix voice. But Drew is an amazing live performer. And I think that word has gotten out. So a lot of his followers are fans or people who love music because they hear things I don't even hear.  They hear the talent that he has in his vocal abilities. I would say girls and music lovers are his big audience.
Drew: Most of the population is not heavy music lovers. I think music fans are still a small audience. Most people here like pop music which is very easy, simple music. It's not technical or complex music to listen to. So, I'm trying to make music that is closer to the pop side so that I can have more fans. But I still always have to satisfy my music lovers. Because they want to hear live instruments, they want to hear something talented. That's why I try to make both happen.
The times have changed, and we can download music. Are you still going to a shop to buy CDs?
I only download music. But I subscribe to all the music platforms. If you pay the subscription I do believe that the money will get to the artists which is the purpose of buying an album, you want to support them. But there was a time before those platforms came when you could download for free. And that was when things got rough for music. But it's getting better now. I do miss those days when you could buy CDs, because you hold it, you can read it and see the pictures. You just feel a lot more connected. But I don't know where to buy a CD right now, even if I wanted to.
Ron: There are things that we miss about the past in music, but there are things that are so amazing that are happening right now. For instance, discovering music on a streaming service, like Drew has had tens of thousands of people discover his music because playlists are created by DJs. And so it's different than shopping from your outlets, it's more of a variety. His song "Deep Water" just passed 620,000 streams on Spotify. The streaming service has allowed more than half a million people to experience "Deep Water" which would be much harder if it was on a CD.
Drew: And also, being on the radio, for example in NY if you are on my favorite radio station which is Power 105 in NY, I believe that if my music was there it would be hard to do as well because you need a lot of money and a record label to support that. That would only probably reach about 100,000 people, maybe 200,000 people. And not everyone is listening to the radio at the same time. So even radio is not what the digital world has allowed me to do. 
About peace, love and blessings
When you can choose your day, what do you like to do most? Are you singing at home or in the car?
I don't get to sing often, unless I have a show or unless I have to go to the recording studio. I wish I could sing more, but I'm doing so many things. My daily routine is either going to an audition, to the gym, or going to acting classes. I have a lot of things, but I wish I could only do music. I have other abilities and talents. I try to push myself to master more things, go further and go bigger.
Ron: And you know, what is very interesting about artists and it is something that I learned working with Drew, is that whether he is on stage singing or acting or writing and creating music, his head space is very important. And so for him to create an impression, to express himself - he has to be happy. He spends a lot of time talking about peace, love and blessings. When you talk about his daily routine he does a lot of things that someone like me as a business man, doesn't do. It makes me crazy because I'm always doing and working, but of course as an artist it's important to not be tense because you have to express your best self. So he takes really good care of himself - like eating, sleeping, meditating, yoga and exercise. We have to create balance for creating and making business at the same time.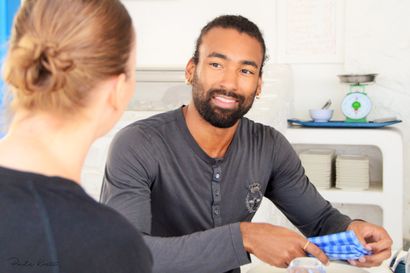 When people get famous and the success stops they don't get support anymore. Are you afraid of that or do you have some backup plans?
I think about it. And sometimes I am a bit afraid because I have hung out with celebrities that to the world you think their life is amazing. But when I meet them and talk to them I find out it's not what you think it is. One of my good friends, we used to write songs together when we were teenagers, now he is famous. He is an RnB singer. He is working with all the big names. But he is not quite where he wants to be yet because so many people have become jealous because he's famous. So the friends in your close circle they act different. It changes you. I'm nervous that it could happen because I'm always happy and I love to be around people. I love my friends, I love my family. If they were to change because I'm famous, then I wouldn't have my friends anymore and I'd feel alone so I wouldn't like that. It's scary.
Ron: It's also interesting about your question, what if the fame stops, what do you do? I think that Drew is protecting himself, he is not actually chasing fame. I think when you are chasing fame and you achieve it and you lose it, you get scared. But he is fulfilling his purpose like his purpose is to share his beautiful music and to share his talent with the world. And I think when that is your intention, it's going to work out the way it's supposed to work out.
Drew: I don't need to keep the fame either because I just need it to do what I'm trying to do with my music and reach more people. Then when the fame leaves and my success stops, I'll be okay because I can use the foundation to do what I really want to do which is spreading music and peace and love to more people and be a good influence on people. I feel successful already and I'm not famous. I've done a lot of the things that I want to do. When I see on my vision board was Dubai and Berlin. I believe Berlin will be next for me. I also want to build a school in a poor country and help with education and when I do things like that - that is success for me.
A message to Emirates and Germany #thetakeover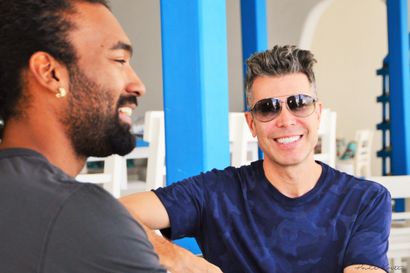 We'll see you in Berlin in the future?
Berlin is big a music scene and they love R'n'B music. I have to go.
Is there any message you want to tell our readers and tell the world?
Ron: I want to tell your readers in Dubai and Germany to get ready, because Drew is coming. I think that with joining Bareface agency yesterday, they certainly believe they will be booking him. I suspect that he will be back soon. Drew has sort of called it his journey. When he is talking about it on social media he calls it #thetakeover. So he refers to 'the takeover'. I would say that the Dubai takeover has started. And the Berlin/Germany takeover is in the works. Drew Vision, he is coming. Be ready.
Thank you, Drew and Ron for your time. You granted us an interesting and open peek behind the scene. We're pretty sure to meet you soon in Dubai and Berlin again.
Classy Dubai and our reader, wish you all the best.
Follow Drew on
Drew Vision talks about "Shade of Summer" 
---
---
---
Special thanks to Beth Lamont for her support and contribution.
---