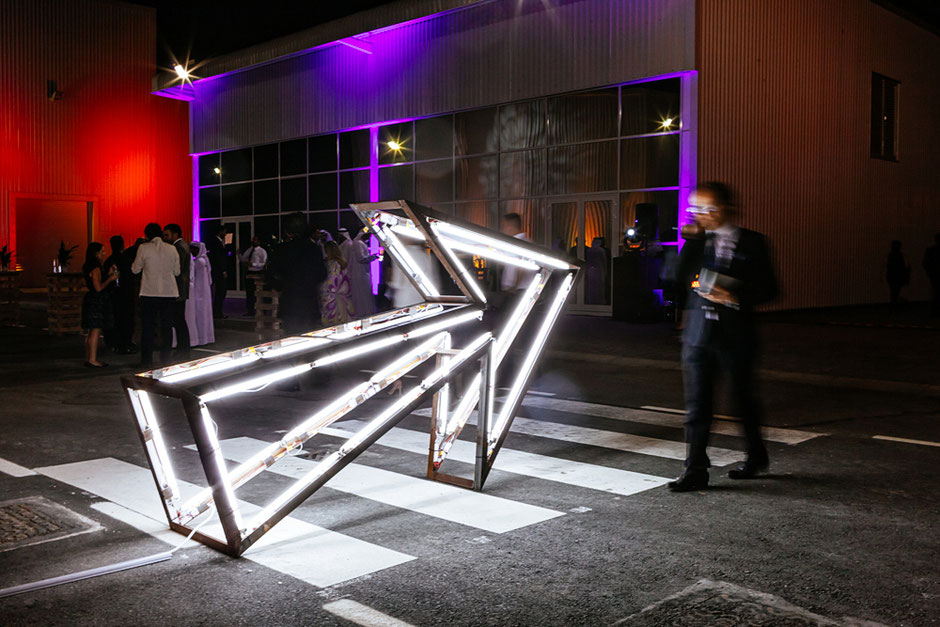 The contemporary art galleries on the Avenue present strong lineup of exhibitions alongside new openings and strong performing arts calendar for September. 
Alserkal Avenue has announced a rich programme of exhibitions and events to open the art season this September. The contemporary art galleries in the Avenue will show work from a strong selection of artists from across the MENASA region.
Alserkal Lates
The public are invited to view these new exhibitions at Alserkal Lates on 27
September, when the contemporary art galleries in the Avenue will extend their
hours, staying open until 9pm. Guided tours of the exhibitions will depart from
outside Nadi Al Quoz at 7pm and 8pm.
Project Space Art Jameel will hold an artist talk with Maha Maamoun in
conversation with Shumon Basar, taking place in Nadi Al Quoz at 6.30pm. Tharawat
Family Business Forum will hold their next Tharawat Talk about the 'Future of
jobs – Automation, Artificial Intelligence, and the Workplace' at 7.30pm in
Warehouse 19.
New opening: Sima Performing Arts
This September sees the official launch of Sima Performing Arts, a studio and performance venue that will offer a year-round programme of dance classes and performances. Sima Performing Arts is home to Sima Dance Company,
founded in Damascus, Syria in 2003 by Alaa Krimed. On 27 September, during Alserkal Lates, Sima Performing Arts will hold free, open sessions where the public can join contemporary dance classes or watch the Sima Dance Company
rehearsals. Their grand opening performance will take place on 30 September at 7pm. The performance will be free and open to all, with seats available on a firstcome, first-served basis.
Photo Courtesy Alserkal Avenue
Community programme
Alserkal Programming, the not-for-profit initiative from Alserkal Avenue, continues its community programming, with Literaturhaus at Nadi continuing throughout September with a strong line-up of authors, and poets including Mai Khaled reading from her novel The Magic of Turquoise on 9 September, a poetry reading by Zeina Hashem Beck on 13 September and Philip Kennedy discussing the first Arabic novella on 16 September. Later in the month, Aidan Walker discuss his book, The Ecology of the Soul, on 25 September, long-term UAE residents Dr. Frauke Heard-Bey and David Heard will hold a talk on 28 September, and finally Tom Fletcher will discuss Naked Diplomacy: Power and Statecraft in the Digital Age on 30. 
September to bring the summer programme to a close. The Bookshop by Motivate Publishing in Nadi Al Quoz stocks a variety of books to support the programme, including those from participating authors.
Saturday Tours will take place twice this month, on 16 and 30 September. The public are invited to join a one-hour guided tour that will take them into some of the creative businesses and contemporary art spaces in the Avenue, giving them a chance to meet the people behind these concepts and view their current exhibitions. 
Exhibition Highlights: 
1x1 Gallery
14 September to 31 October 2017
M Pravat | Liquid States
Ayyam Gallery
13 September – 26 October
Mohannad Orabi | Ripples | Warehouse 11
Roshanak Aminelahi | G O R D A F A R I D | Warehouse 12
Carbon 12
From 13 September
Amir Khojasteh and Philip Mueller | Good Face and Incurable Flaws
Custot Gallery Dubai
27 September – 28 October
Group exhibition | CREATED REALITIES
ElMarsa
Opening 13 September
Thameur Mejri | Heretic Spaces
Gallery Isabelle Van Den Eynde
13 September to 3 November
Ramin Haerizadeh | To Be or Not To Be, That Is the Question. And Though, It
Troubles Digestion*
Green Art Gallery
13 September to 28 October
Group exhibition | Theatre of the Absurd
GREY NOISE
23 September to 4 November
Daniel Gustav Cramer & Joana Escoval | Sand
Gulf Photo Plus
Opens 13 September
Group exhibition | Behind the Portrait
Jean-Paul Najar Foundation
13 September – 26 October 2017
Pierre Dunoyer | vers le tableau
Lawrie Shabibi
23 September – 2 November
Massoud Arabshahi | Early Works from the Azari Collection
Leila Heller
21 September – 4 November
Jacob Hashimoto | Eclipse
Enoc Perez | The Desert Bloom
Project Space Art Jameel
13 September - 12 October
Maha Maamoun | Select works in video and photography
Collaboration: Art Jameel and The Metropolitan Museum of Art
The Third Line
13 September to 21 October
Pouran Jinchi | THE LINE OF MARCH –
Photo Courtesy Alserkal Avenue 
About Alserkal Avenue
Located in Al Quoz, Dubai and established in 2007, Alserkal Avenue is the region's foremost contemporary arts and culture district. Alserkal Avenue hosts sixteen galleries and over forty creative businesses, cultivating a vibrant community of visual and performing arts organisations, designers, and artisanal spaces that has become an essential platform for the development of the creative industries in the United Arab Emirates.
At the intersection of art, culture and commerce, Alserkal Avenue is more than just a neighbourhood, it is the driving force that brings the community of Dubai together to support and encourage a creative economy.
---