Ras Al Khaimah's very own Artisanal Chocolatier 
Swiss chocolates with a touch of Middle East flavours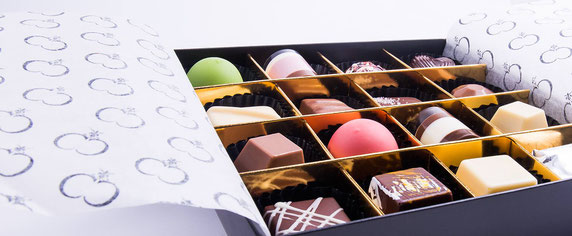 As we step inside into the manufactory, a sweet, mouth-watering aroma of chocolate wafts over us. We arrived the chocolate heaven in the desert of Ras Al Khaimah. 1001 Delights,  Istanbul Nights, Tomato Basil, Rasberry Chilli… those and many more of the exotically named pralines and the unforgettable taste brought us to "Von Gysenstein".  
Daniel Hutmacher - one face of the Swiss artisan chocolatery "Von Gysenstein - the newly awarded Chocolatier Middle East 2017 – spill the beans about how he as a chocolatier combines passion with the knowledge to create exclusive hand-crafted treats and what kind of his creations he would recommend to George Clooney and Beyoncé.
Nowadays chocolate is not just a simple candy anymore. For discerning customers off the beaten Nutella paths, it's lifestyle, it's luxury and it has even to be healthy. How do you adapt it to your creations and what means chocolate to you? 
Chocolate is in the Super Food category of items due to its high nutritional values! Of course, we are talking about dark chocolate. We are now creating filled chocolates without dairy products, low in calories, only with natural products; thus Vegan, low calories, much tastier since the dairy products are not masking the flavours anymore.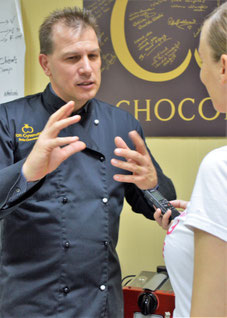 This region, in particular, Dubai, it's just all about pure lifestyle. It already start's with how we live, how we dress, where we go out, what we eat…. Which one of your pralines meet the spirit of the "Dubai Style"? 
Our newest line of Camel Milk filled chocolates would go into that category of "Hip" chocolates; low in calories, high in nutritional values, made of local products, Arabic style expressed with Saffron and Gahwa fillings. Very Healthy and part of the future trend of "local" products expanding rapidly throughout the region.
You are very creative finding a new taste. Pralines with Tomato-Basil Taste or Raspberry-Chilli are few besides of many others. What are your Top 3 of Taste? 
The funky ones are indeed Gold Line Raspberry & Chili, the Camel Milk Saffron, Chocolate Istanbul Nights…. There are also the 1001 Delights but this is more a designer chocolate line only sold on demand…
Von Gysenstein is also doing "healthy pralines".  How can chocolate be healthy? And has healthy chocolate still the chocolaty taste/touch? 
Healthy chocolates mean that we reduce the calories by about 40% and only use real chocolate with Cocoa Butter. Chocolate is healthy for its nutritional values, up to 40gr per day makes you feel good, lowers your heart failure rate, smoothens your arteries, increases the flow of the blood and lowers blood pressure, powerful source of anti-oxidants, helps to protect your skin against the sun, it is also a source of fibers, energy, etc. 
It sounds fantastic, enjoying chocolate without regret. It seems to us you are a trendsetter when it comes to healthy chocolate? 
We are for sure at the front of the pack in exploring new applications through research and pushing traditional boundaries with aligning the chocolate in the Super Food family.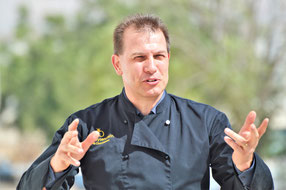 How would you describe the taste of a high-quality chocolate? And how can I distinguish that chocolate is high-quality, handmade, premium ingredients? 
High-end chocolate is giving you already pleasure to look at with an attractive colour, the smell is of cocoa and much more subtly expressed (up to 600 flavours are found in cocoa), breaking it should give you a snap which expresses the presence of cocoa butter. The taste is strong in cocoa, can be earthy, flowery, fruity. Must be smooth on the tongue, not give you a burning taste, no sandy feeling when melting, makes you feel good and gives a feeling of quality, elegance, makes you feel special. There is an inherent bitterness in the dark chocolate which comes from the cocoa which is bitter.
Let us assume The Ruler or George Clooney or Beyoncè would call you and ask you what pralines of von Gysenstein to buy. Which one would you would recommend? 
They all come with distinct tastes. The Ruler would love the Camel Milk filled chocolates (the Ruler of Dubai has already approved them…) George Clooney would go for a subtle assemblage like a Raspberry & Chili and Beyonce would crave for a Dulce del Lecce with Sea Salt flakes… or she would give us the highest marks for a white Musk Truffle from our 1001 Delights….;-)
About von Gystenstein
- Launched in 2009
- Family Business of the Siblings Daniel, Ginette and Claude 
- Hand-Crafted Swiss Chocolate
- About 80 percent of the raw materials used come from Switzerland by Felchlin (the      
  Ferrari of chocolate), the rest from Germany and Belgium
- Available beside of UAE in Oman, Qatar, Bahrain, Maldives, KSA, Iran
- Award "Chocolatier of the Middle East 2017"
---
Wenn George Clooney anrufen würde
Swiss chocolates with a touch of Middle East flavours
Als wir in die Schokoladenmanufaktur eintreten, umgibt uns ein süßes Aroma von Schokolade, das einem das Wasser im Mund zusammenlaufen läßt. Hier sind wir nun, im Schokoladenhimmel in der Wüste von Ras Al Khaimah. Daniel Hutmacher – eines der Gesichter der Schweizer Schokoladenmanufaktur "von Gysenstein" – gerade erst gekürt zum "Chocolatier Middle East 2017" – verrät uns wie sie Leidenschaft und Wissen in exklusive, handgefertigte Köstlichkeiten verwandeln und welche Pralinen er aus seiner Kollektion George Clooney und Beyoncè empfehlen würde. 
Schokolade ist heute nicht mehr nur eine einfache Süßigkeit.Anspruchsvolle Kunden, außerhalb der ausgetretenen Nutella-Pfade, ist sie Lifestyle, luxuriösund muß gesund sein. Wie passt Ihr eure Kreationen diesen Anspruch an und was bedeutet Schokolade für Dich?
Schokolade gehört in die Super-Food Kategorie, wegen ihres hohen Nährwertes. Natürlich reden wir hier über dunkle Schokolade. Wir kreieren gerade Pralinen ohne Milchanteil, gering in Kalorien, nur natürliche Zutaten; heißt Vegan, kalorienarm und ohne Milchanteile, sehr geschmackvoll.
In dieser Region, besonders Dubai, dreht sich alles um den Lifestyle: Wie wir leben, wie wir uns anziehen, wohin wir ausgehen, was wir essen…. Welche eurer Pralinen verkörpern den typischen "Dubai-Style"?
Unsere neueste Kreation, mit Kamelmilch gefüllte Schokolade, kommt wohl dem Style "Hip" am nächsten: wenig Kalorien, hoher Nährwert, aus lokalen Zutaten zubereitet. Der arabische Stil drückt sich in den Füllungen von Safran- und Gahwa-Geschmack (arabischer Kaffee) aus. Sie sind sehr gesund und der zukünftige Trend von "lokalen" Produkten, die sich rasch in der gesamten Region ausbreiten.
 
Ihr seid sehr kreativ, wenn es darum geht neue Geschmacksrichtungen auszuprobieren. Pralinen wie Tomate-Basilikum oder Himbeer-Chilly sind nur einige von vielen anderen. Was sind Deine Top 3?
Die außergewöhnlichsten sind aus unserer Gold Line Himbeere-Chilli, Kamel-Milch-Safran und Istanbul Nights. Da gibt es noch 1001 Delights, aber das ist eher eine Designer Schokolade die wir nur auf Anfrage verkaufen.
Von Gysenstein kreiert auch "gesunde Pralinen". Wie kann Schokolade gesund sein? Und hat gesunde Schokolade überhaupt noch einen schokoladigen Geschmack?
Bei unserer gesunden Schokolade reduzieren wir die Kalorien zu 40% und verwenden nur richtige Schokolade mit Kakaobutter. Schokolade ist gesund durch ihren Nährwert, bis zu 40 Gramm pro Tag. Er verleiht ein glückliches Gefühl, verringert die Herzproblemrate, macht die Arterien geschmeidig, erhöht die Blutzirkulation und verringert zu hohen Blutdruck. Es ist eine kraftvolle Quelle von Antioxidantien, sie hilft der Haut sich vor Sonnenstrahlen zu schützen, enthält Ballaststoffe und gibt Energie etc.
Das hört sich ja fantastisch an, Schokolade ohne schlechtes Gewissen zu genießen. Es sieht so aus, als ob von Gysenstein Trendsetter für gesunde Schokolade ist?
Wir sind durch unsere Forschung auf jeden Fall an der Spitze, wenn es um die Entdeckung neuer Einsatzmöglichkeiten geht. Wir weiten traditionelle Grenzen aus, wenn wir Schokolade in die Familie der Super Foods einreihen.
Wie würdest Du den Geschmack von einer qualitativ hochwertigen Schokolade beschreiben? Und wie kann ich erkennen, das Schokolade hochwertig ist, handgefertigt mit Premium-Zutaten?
Hochwertige Schokolade springt schon durch ihre attraktive Farbe ins Auge, der Geruch von Kakao und viele unterschwellige mehr (Es wurden bis zu 600 Aromen in Kakao gefunden) lassen dich die Präsenz von Kakaobutter spüren. Der Geschmack von Kakao ist stark, er kann erdig, blumig oder fruchtig sein. Er schmilzt auf der Zunge. Es gibt Dir aber kein brennendes, kein sandiges Gefühl, wenn es schmilzt. Du fühlst Dich gut und es gibt Dir das Gefühl von Qualität und Eleganz, was Dich besonders fühlen läßt. Es gibt eine inhärente Bitterkeit in der dunklen Schokolade, welches vom Kakao kommt.
  
Lass uns annehmen der Ruler oder George Clooney oder Beyoncé würden Dich anrufen und fragen, welche Pralinen sie bei von Gysenstein kaufen sollen. Welche würdest Du ihnen empfehlen?
Sie alle haben einen sehr guten Geschmack. Der Ruler würde die Kamelmilch gefüllte Schokolade lieben (Der Ruler von Dubai hat diese schon für gut befunden). George Clooney würde ich eine feine Zusammenstellung von Himbeer und Chili empfehlen und Beyoncé würde sicherlich für ein Dulce del Lecce mit Seesalz Flocken schwärmen oder uns die höchsten Noten für unser weißes Moschus Trüffel aus unserer 1001 Delight Linie geben.
http://www.chocolat.ae/index.aspx
---
Interview: MarlaMaria
Photos: Paule Knete / von Gysenstein
Classy Dubai berichtet redaktionell und unabhängig. Als People Magazin stellen wir Menschen vor die uns bedeutsam für die Stadt und ihre Bewohner erscheinen. Classy Dubai erhält keinerlei Bezahlung. Wir freuen uns, wenn Sie uns schreiben an marlamaria@classy-dubai.com oder uns anrufen. Von 6 bis 13 Uhr deutscher Zeit sind wir auch tel. erreichbar unter  
+971 52 6878 839. Wir sind werbefrei, Sie helfen uns einfach indem Sie uns auf den Buttons unten liken und weiterempfehlen.
Folgen Sie "Classy Dubai" auf
Instagram classydubai_
Facebook https://www.facebook.com/classydubaiblog
Pinterest classydubai
youtube classydubai
---