Why did you come here what is your objective - more money, better life, paying off debts starting afresh?
Prioritize your reasons Stay focused. Don't get sidetracked.   
Open a savings account in YOUR name. AUTOMATE by standing instruction to your bank to debit 10% of your salary when it is credited to a Start a savings/investment plan for your FUTURE – you now have 90% to spend. 
Build at east 3 month's income which will become your Emergency Fund if you have a financial crisis.
Living with spouse/partner/friend
Keep separate accounts
Maintain strict contribution/budget/spending rules
Don't compensate/ask for compensation when budgets are compromised Just cut back.
Choose cheaper Accommodation, stores to buy groceries toiletries clothes
Dress intelligently mix match accessorize
Invest in yourself take membership to a high profile business club (dinners/lunches/gala events are generally FREE) -gives you access to HNIs to improve/business/job prospects
Reduce eating/drinking out
Check prices before you order anything
Avoid ordering teas, coffee, water, juice, soup, salads
Use discount coupons
Don't spend your hard-earned money to make/keep friends
Attend events that are free
Be intelligent when entertaining for business. Negotiate with restaurants/stores for discounts for continued business/bringing potential clients.
Metro/car pool instead of Uber
Volunteer your business services in return for access/exposure to better your earnings.
Choose where you should be seen, heard, read. 
Repeat Umpteen times
I am choosing to make the time to take charge of my money. No matter how much money I have, I am making my money grow. It is not selfish to take good care of myself financially.  It is self-respecting and self-caring and ultimately makes my relationship with others more satisfying 
---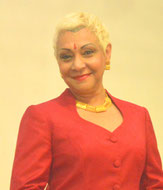 About Sandi
Sandi has lived in the GCC for 46 years. Circumstances forced her to enter the work force at the age of 44 she had no prior work experience to create a CV.  
Sandi devotes her time to her job in personal financial planning with Nexus Insurance Brokers. She also heads the division 'Family Matters' at Echelon Advisors and Management Consultants, her family firm.  Her primary focus is the Financial Independence and Empowerment of Women.  
Sandi is an avid contributor to the media on topics related to personal finance, a regular guest speaker on radio and TV and is frequently quoted in the business pages of local and international publications.Sandi uses her expertise in financial planning and talents in public speaking at conferences and seminars to build awareness and promote financial Independence for women. 
Awards
1.By CEO Clubs Network (www.ceoclubsuae.com) Platinum Award in Corporate Leadership
2.UNASCO and WILTME for supporting Women's Initiatives and Women Empowerment in an Outstanding and Professional manner over the years
3. 2016 Personality of the year World of Women Film Fare Middle East in recognition for valuable contribution to woken in the UAE and beyond
4. 2017 Super Women Achievers Award -By 4th Women's Leadership Congress and Awards Mumbai
Other positions in the community
Founder –Lakh-ME a Trust in India focused on the Financial Independence of Women
Permanent Trustee and Partner Manzil Center for individuals with special needs www.manzil.ae
Board member Business Women's Division CEO Clubs
President- Women in film and Television UAE
Life member Athena International
---
Article by Sandi Saksena
Photo: Paule Knete
Classy Dubai berichtet redaktionell und unabhängig. Als People Magazin stellen wir Menschen vor die uns bedeutsam für die Stadt und ihre Bewohner erscheinen. Classy Dubai erhält keinerlei Bezahlung. Wir freuen uns, wenn Sie uns schreiben an marlamaria@classy-dubai.com oder uns anrufen. Von 6 bis 13 Uhr deutscher Zeit sind wir auch tel. erreichbar unter  
+971 52 6878 839. Wir sind werbefrei, Sie helfen uns einfach indem Sie uns auf den Buttons unten liken und weiterempfehlen.
Folgen Sie "Classy Dubai" auf
Instagram classydubai_
Facebook https://www.facebook.com/classydubaiblog
Pinterest classydubai
youtube classydubai
---