Beauty (English & German)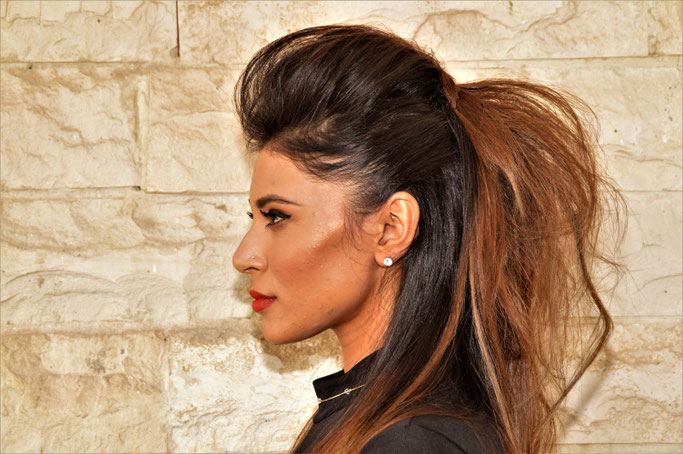 In the course of the healthy lifestyle and beauty campaign "Carnival Beauty - Trends 2017" the Beauty Salon of Carnival Health Spa2 in Jumeirah launched its second press and blogger event featuring the German hair care brand Schwarzkopf. This events – on invitation only – are meanwhile a must for lifestyle professionals and a desired rendezvous of bloggers and influencers. 
Alfred Schubert, the German owner of both Carnival Health Spas on Al Wasl Road in Jumeirah, introduced the philosophy of his outlets and introduced Emilia Lucka, an experienced teacher and coach for stylists and hairdressers. The photogenic professional's trainer and hair stylist Emilia Lucka demonstrated  in her accustomed way her styling art and skills and enthused the audience.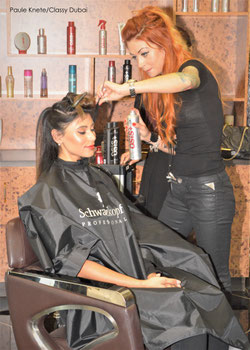 This time, Emilia, the Schwarzkopf Pro UAE icon presented styling tricks and tips for dark hair. (Last time the team presented solutions for blonds because the international community of the Emirates embraces tens of thousands of natural blondes and those who would like to become such. Carnival has chosen BLONDME because of one of Schwarzkopf's USP as bespoke brand dedicated to blondes.)
Right from the start team and models were closely surrounded by photographers and bloggers. Social media were full of amazing pictures proving the expert's styling art in Carnival Health Spa 2 and the quality of Schwarzkopf as well. Many bloggers explored Schwarzkopf's OSIS+ products. Literally a highlight inter alia the wonderful DUST IT powder they found in their goodie bags. It's on its way to become an indispensable accessoire in the hip lady's bathroom and their hand bag as well.
As the beauty salon serves men and women Carnival will continue the "Trends 2017" series in February 2017 presenting men's topics as well.
The Hamburg based world famous German cosmetics manufacturer Schwarzkopf looks back on a long history. Schwarzkopf developed an advanced innovative product range, making a global leading brand when it comes to professional haircare. The team of "Schwarzkopf Professional UAE" presented application-technology and products to a competent audience - Dubai's assembled family of beauty bloggers and lifestyle experts.
Carnival Health Spa Two. The Dubai based German owned company provides - apart from spa services - professional manicure, pedicure and hair care on Dubai's health and beauty high street Al Wasl Road. Carnival Beauty cooperates with Schwarzkopf providing professional products for women and men.
#stylemyhairdxb #blondme #carnivalbeautydubai
#carnivalhealthspa2 #schwarzkopfuae
---
Style my Hair (german)
Carnival Health Spa2 setzt seine Gesundheits- Lifestyle- und Beauty-Kampagne "Carnival Beauty - Trends 2017" fort. Der Beauty Salon Carnival Health Spa2 in Jumeirah richtete seinem zweiten Presse- und Blogger-Event mit der führenden deutschen Haarpflegemarke Schwarzkopf aus. Das Team von Schwarzkopf Pro UAE präsentierte "Dark Hair – Style Me" mit den grandiosen Styling Produkten von OSiS+. (Klick hier vom Styling Event für blondes Haar BlondME)
Alfred Schubert, der Deutsche Inhaber der Carnival Health Spa's in Jumeirah, stellte den Beauty- und Lifestyle Bloggern, in seiner charmanten Art, die Philosophie der Spa's und des Salons vor. Für diejenigen die sie schon kannten, konnten es kaum erwarten, ihre Tips und Tricks rund um's Hairstyling zu erfahren – Emilia Lucka – Hairstylist und Trainer bei Schwarzkopf ist mit ihrer roten Mähne, den schwarzen Klamotten und ihre Tatoos schon ein Hingucker für sich. An zwei sehr gut aussehenden Models demonstrierte sie zwei trendy Varianten von Frisuren. Was sehr einfach gestylt und vor allem Natürlich gestylt aussieht, bedarf guter Stylingprodukte. Dafür eignen sich die OSis+ Produkte hervorragend. Jeder der Blogger, inklusive Emilia selbst, sind dem "Dust It" verfallen. Ein Haarpuder, dass nur etwas im Haar verteilt, Volumen und Halt gibt – den ganzen Tag. Definitiv ein "I can't live without – Product". Übrigens auch handlich im Design, so dass in jede hippe Handtasche passt.
Wer mehr über das Styling Event erfahren möchte, findet auf Social Media viele Post von den Bloggern, die alle begeistert waren.
Während der Präsentation und danach waren das Team und die Models eng von Fotografen und Blogger umgeben. Der Wellness- und Schönheitssalon für Männer und Frauen wird die "Carnival Trends 2017" -Serie im Februar 2017 fortsetzen, u.a. werden auch Trends für Männer präsentiert.
Der Hamburger Kosmetikhersteller Schwarzkopf blickt auf eine lange Geschichte zurück. Schwarzkopf entwickelte eine fortschrittliche, innovative Produktpalette, die weltweit eine führende Marke bei der professionellen Haarpflege ist. Das Team von "Schwarzkopf Professional UAE" präsentierte Applikationstechnologie und Produkte einem kompetenten Publikum - der in Dubai ansässigen Beauty-Blogger und Lifestyle-Experten.
Der Wellness und Beauty Salon Carnival Health Spa2 ist ein in Dubai ansässiges deutsches Unternehmen und bietet - neben Spa-Dienstleistungen - professionelle Maniküre, Pediküre und Haarpflege an. Der Spa ist im feinen Jumeirah an der Al Wasl Road zu finden. Carnival Beauty kooperiert mit Schwarzkopf – eine Garant für professionelle Produkte für Frauen und Männer.
Article by Marla Maria
Pictures:  Paule Knete
Classy Dubai berichtet redaktionell und unabhängig. Als People Magazin stellen wir Menschen vor die uns bedeutsam für die Stadt und ihre Bewohner erscheinen. Classy Dubai erhält keinerlei Bezahlung. Wir freuen uns, wenn Sie uns schreiben an marlamaria@classy-dubai.com oder uns anrufen. Von 6 bis 13 Uhr deutscher Zeit sind wir auch tel. erreichbar unter  
+971 52 6878 839. Wir sind werbefrei, Sie helfen uns einfach indem Sie uns auf den Buttons unten liken und weiterempfehlen.
Folgen Sie "Classy Dubai" auf
Instagram classydubai_
Facebook https://www.facebook.com/classydubaiblog
Pinterest classydubai
youtube classydubai
---