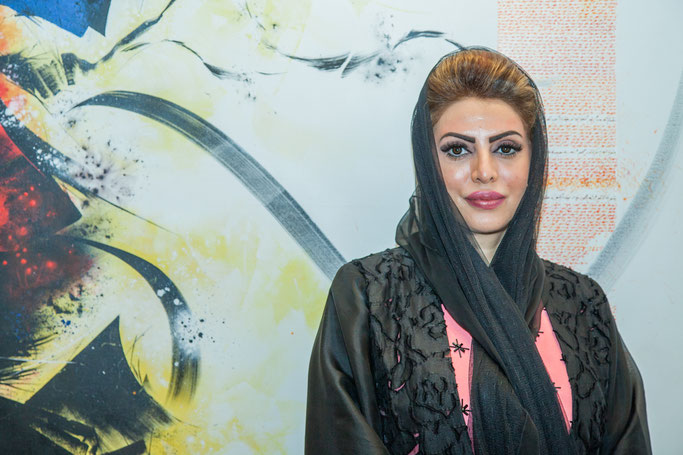 The Islamic Art Forum is a platform founded with a vision to combine modern and traditional Arab culture. Mariam Al Suwaidi - Founder of Gadeemadis und Curator of the Islamic Art Forum want to transcend her message of Islamic Art to the world.
To support and celebrate International Women's Day the Islamic Art Forum will hold an exhibition titled "Untha from Alef to Yaa" at the WOW Middle East charity Dinner.
By her art, Mariam has taken on a journey to inspire women in the region to fulfill her dreams. 
How would you explain the characteristics of the Islamic Art Forum? 
If we are to give the forum a personality, I believe it would be a youthful and an ambitious venture that is brave, able, generous, creative, and sophisticated. The forum's aim is very clear and it is to promote the genuine concept of Islamic art as a civilized, intellectual, and aesthetical heritage on a very high level. We definitely believe that this will ensure the special status of UAE and contribute vastly to the innovative movement witnessed in the country.
Was there a special moment or a trigger to create this Islamic Art Forum on such new level? 
As I have a tendency for art as it is rooted my personality characteristics, and since I believe we are a reflection of our background, culture, maybe books we read, and paintings we see, I have come to shape my vision very well. It was indeed my vision to work with creative artists of our world to elevate what we originally have rooted within the elite of the talented, to reveal our innovative and insightful culture.
What is your vision, what can the Islamic Art Forum convey to the world? 
My vision is to highlight the magnificence of the modern Islamic Art and contribute to convey its splendors so it acquires the global attention it deserves. Actually, me, and through the Islamic Art Forum seek an evolution and an innovation, I seek a trend that we create and spread for the world to pursue… Maybe a turning point of originality and regeneration, and a reflection of the genuine concept of Islamic art as a civilized, intellectual, and aesthetical heritage that is renewable and updatable.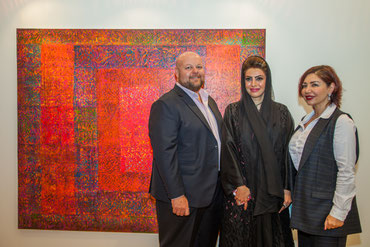 The Art Forum supports and celebrates Women´s day with an exhibition on the WOW ME Charity Gala Dinner. You want to show exhibits from women only and what kind of exhibits you have chosen for this event? 
The Art Forum will be supporting women's day, not by showing exhibits of women only, but rather by participating while having a philanthropic part to do. Well, Islamic Art Forum is featuring its art exhibition "Untha from Alef to Yaa" to celebrate the international women's day and to participate in raising money for Al Jalila Foundation in collaboration with WOW Middle East, which promotes and awards the talents of women producers, directors, writers, and editors in the film industry internationally. Hence, the calligraphic artwork of our exhibition is giving women of the world a great message written in Arabic letters from A to Z "Alef to Yaa". 
What is new on this Forum compare to the last year forum? 
On March 7, the forum will be exhibiting a small number of its magnificent and luxurious artwork and as you see is collaborating with WOW Middle East towards a special occasion and a philanthropic endeavor. However, the second Islamic Art Forum 2017 will be held nshallah in a platform within a venue we will announce in the right time and around the month of November. It is important to note here that all exhibitions of the forum are part of a long-term strategy that aims to explore dynamic opportunities in the expanding world of traditional and contemporary Islamic art.
Can you tell our German readers more about you and your relationship to Art? 
Besides being the founder of Gadeemadis for Art and Culture, I am the founder and curator of first Islamic Art Forum in Abu Dhabi, UAE. I have been so much attracted to art since childhood, and the interest was materialized more or less at university when I was studying engineering. Actually, I was very impressed by some historically notable architectural styles such as Persian Islamic architecture, early modern and postmodern architecture, and I have utilized many of that in developing project concepts and themes. In this phase of my life, and with the support I touch from Abu Dhabi's government and its genuine interest in art, I am pursuing what I believe I love the most and hopefully I'm transforming my dream into a reality.
What is the message behind the Forum this year?
As I have explained, the forum is collaborating through its art exhibition in collaboration with WOW Middle East on March 7, at Park Hyatt Ballroom, Dubai. The forum will be holding its second annual session around November, 2017 where we will be working on launching unique luxurious artwork collection that expresses a thematic orientation of "Peace". Islamic Art Forum 2017 will take place nshallah to coincide with world peace day and national events (The National day, Martyrs day) and will reflect our aspiration to peace as it is the power of being able to love each other and belong to each other.
Interview: Marla Maria
Pictures:  Mariam Al Suwaidi
Classy Dubai berichtet redaktionell und unabhängig. Als People Magazin stellen wir Menschen vor die uns bedeutsam für die Stadt und ihre Bewohner erscheinen. Classy Dubai erhält keinerlei Bezahlung. Wir freuen uns, wenn Sie uns schreiben an marlamaria@classy-dubai.com oder uns anrufen. Von 6 bis 13 Uhr deutscher Zeit sind wir auch tel. erreichbar unter  
+971 52 6878 839. Wir sind werbefrei, Sie helfen uns einfach indem Sie uns auf den Buttons unten liken und weiterempfehlen.
Folgen Sie "Classy Dubai" auf
Instagram classydubai_
Facebook https://www.facebook.com/classydubaiblog
Pinterest classydubai
youtube classydubai
---