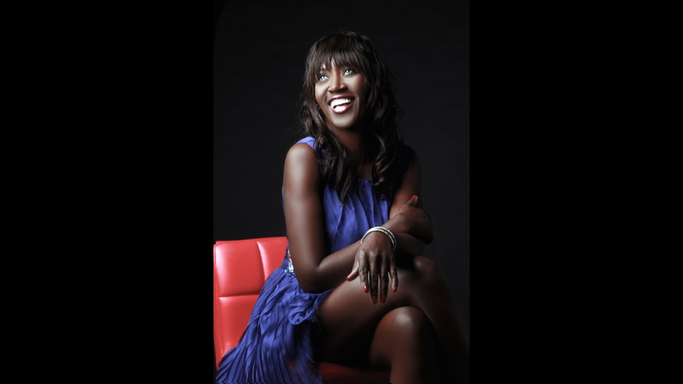 Pearlescence - the newly launched women's power event by the incredible Cordelia Henry – was #sowsowreap. No, it's not one of those usual network gatherings again. It's different! And when I say it's different I mean literally "different". We have attended many events but Pearlescence cannot be compared at all. But what is new and what's worth a review? And who is Cordelia Henry?
Let's begin with the location. A well-chosen place – a stylish warehouse located in the city's nowadays hippest creative district – in Al Quoz. Swarms of well-dressed ladies waiting at the entrance. Impressive - Cordelia herself receives her guests personally and in order to avoid an impression of lost in a bunch of strange people she created a name-game that all ladies were getting connected. No! I give nothing away about the game. Interested? Come to the next Pearlescence event and find it out. After chitchatting and having the feeling we have known each other for ages immediately the official part started. Cordelia on stage – introducing herself and Pearlescence was genuine entertainment and emotions followed by interviews, panel discussions and Belly Dancing. The famous German healthy and trendy Bakery and Restaurant "Baker´s Kitchen" presented super delicious treats. It was an event for Fun, Body, Business, Mind and Soul. And now clear the Classy Dubai stage for Cordelia Henry.
Cordelia, what is Pearlescence?
Pearlescence is a community where female entrepreneurs and career professionals find inspiration, encouragement, by building authentic, inspired connections that lead to spectacular lives.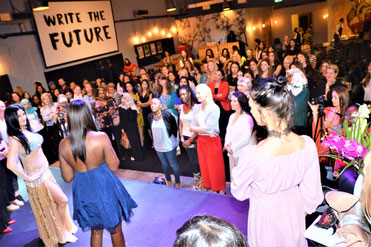 What is the main advantage of Pearlescence compared to other similar organisations?
Turning a passion into a business is the ultimate dream. Cultivating career success in the corporate world is a dream come true. But dreams don't come easily. It's usually a lot of hard work, and there are challenges around every corner.

The Pearlescence Community enables women to overcome these challenges together.  It's a social network that makes it really simple & fun to build authentic, inspired connections with other women – who have the specific skills, knowledge & connections you need, who can give you the right kind of support.
What is the reason that you have established LustreParties?
Having lived and worked in Dubai for the last 18 years I have been longing to be part of a community where women can come together and be inspired to build authentic connections with each other. Yes I have been to networking events, but these gatherings did not provide me with the support and deeper relationships that I was looking for in order to grow my business and enable me to live a spectacular life!

I see us leading spectacular lives the moment we learn how to cultivate powerful connections with people and within ourselves.

The Pearlescence community provides incredible connections physically, emotionally and spiritually. It's a world of women's wisdom!

What is a LustreParty?
LustreParties are themed high-energy experiences that have you walking away with new ideas for your life & business.


Cordelia's Pearlescence is just in the beginning of something big. Be part of it and come with your friends to the next LustreParties. All events, interviews with the speaker, news and stories about it will be published on Classy Dubai. Stay tuned!

Next LustreParties

LustreAssets: A Man is not a Financial Plan
26th February 19:00 - 22:00
Are you where you want to be financially? If not, the key to empowerment is to design your own financial future. Because it's entirely possible to have it all.

LustreAction: Overcome your business challenges
26th March 19:00 - 22:00
What is the biggest challenge to the success of your business? Come with that challenge to the LustreParty and be amazed at how we dissolve it.

LustreAspire: Achieve Your Goals and Turn Fear into Fuel
23rd April 19:00 - 22:00
What negative voices in your head rob you of your confidence? Get ready for action at this LustreParty as you face them, talk back to them, and get rid of them.

More about Cordelia: Cordelia loves working with business women. She has a unique way of opening their hearts and minds to the world of possibilities that stems from building authentic relationships and creating deep and diverse networks.
Interview: Marla Maria
Pictures:  Paule Knete / Signature Pics: Cordelia Henry
Classy Dubai berichtet redaktionell und unabhängig. Als People Magazin stellen wir Menschen vor die uns bedeutsam für die Stadt und ihre Bewohner erscheinen. Classy Dubai erhält keinerlei Bezahlung. Wir freuen uns, wenn Sie uns schreiben an marlamaria@classy-dubai.com oder uns anrufen. Von 6 bis 13 Uhr deutscher Zeit sind wir auch tel. erreichbar unter  
+971 52 6878 839. Wir sind werbefrei, Sie helfen uns einfach indem Sie uns auf den Buttons unten liken und weiterempfehlen.
Folgen Sie "Classy Dubai" auf
Instagram classydubai_
Facebook https://www.facebook.com/classydubaiblog
Pinterest classydubai
youtube classydubai
---