Beauty (English & German)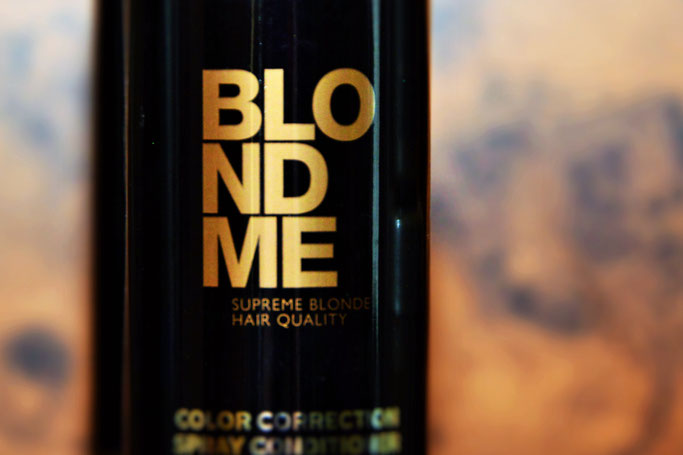 In the course of the healthy lifestyle and beauty campaign "Carnival Beauty - Trends 2017" the Beauty Salon of Carnival Health Spa2 in Jumeirah held a press and blogger event featuring the German hair care brand Schwarzkopf. The team Schwarzkopf Pro UAE presented BLONDME – A Must for every Lifestyle Professional. The international community of the Emirates embraces tens of thousands of natural blondes and those who would like to become such. Carnival has chosen BLONDME because of Schwarzkopf's USP as bespoke brand dedicated to blondes. 
Schwarzkopf's trainer and Hair stylist Emilia Lucka explained the application technology: "The hair colour is applied after the protector that shields the hair from harmful chemicals. BLONDME gives the hair a diamond-like clarity and even tone. It is completely odourless and does not damage the hair like other colorants. There are individual products in this line that keep the hair feeling great, give shine and make the colour last."
During the session and afterwards team and models were closely surrounded by photographers and bloggers. As the beauty salon serves men and women Carnival will continue the "Trends 2017" series in February 2017 presenting men's topics as well.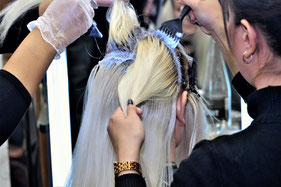 BLONDME is the first and complete approach including colour, care and styling to create Supreme Blonde Hair Quality in salon and at home for glorious blonde and illuminating shine. BLONDME Colour provides high performance for personalized blonde look with more than 40 individual blonde toning options in neutral, cool and warm directions. 
The Hamburg based world famous German cosmetics manufacturer Schwarzkopf looks back on a long history. Schwarzkopf developed an advanced innovative product range, making a global leading brand when it comes to professional haircare. The team of "Schwarzkopf Professional UAE" presented application-technology and products to a competent audience - Dubai's assembled family of beauty bloggers and lifestyle experts.
Carnival Health Spa Two. The Dubai based German owned company provides - apart from spa services - professional manicure, pedicure and hair care on Dubai's health and beauty high street Al Wasl Road. Carnival Beauty cooperates with Schwarzkopf providing professional products for women and men.
---
Schwarzkopf´s BLONDME
"Carnival Beauty - Trends 2017" - eine neue Gesundheits- Lifestyle- und Beauty-Kampagne. Der Beauty Salon Carnival Health Spa in Jumeirah richtete ein Presse- und Blogger-Event mit der führenden deutschen Haarpflegemarke Schwarzkopf aus. Das Team von Schwarzkopf Pro UAE präsentierte BLONDME – ein Muss in Sachen Lifestyle. Die internationale Community in den Emirate erfasst Zehntausende von natürlichen Blondinen und diejenigen, die es werden wollen. Carnival Beauty Salon  hat sich für BLONDME entschieden, weil Schwarzkopfs USP, als maßgeschneiderte Marke, für Blondinen gewidmet ist.
Schwarzkopfs Trainerin Emilia Lucka erläuterte die Anwendungstechnik: "Die Haarfarbe wird nach der Protection aufgetragen, welches die Haare vor schädlichen Chemikalien schützt. BLONDME gibt dem Haar eine diamantartige Klarheit und einen ebenmäßigen Ton. Es ist völlig geruchlos und schädigt nicht das Haar wie andere Farbstoffe. Es gibt verschiedene Produkte in dieser Linie, die den Haare einen gleichmäßigen Glanz geben und die Farbe länger hält.
Während der Präsentation und danach waren das Team und die Models eng von Fotografen und Blogger umgeben. Der Wellness- und Schönheitssalon für Männer und Frauen wird die "Carnival Trends 2017" -Serie im Februar 2017 fortsetzen, u.a. werden auch Trends für Männer präsentiert.
BLONDME mit dem integrierten Advanced Bonding System ist die einzige Farb- und Pflegeserie, die sich voll & ganz blondem Haar widmet. Mit BLONDME erhalten Sie genau den Blondton, den Sie sich wünschen.
Der Hamburger Kosmetikhersteller Schwarzkopf blickt auf eine lange Geschichte zurück. Schwarzkopf entwickelte eine fortschrittliche, innovative Produktpalette, die weltweit eine führende Marke bei der professionellen Haarpflege ist. Das Team von "Schwarzkopf Professional UAE" präsentierte Applikationstechnologie und Produkte einem kompetenten Publikum - der in Dubai ansässigen Beauty-Blogger und Lifestyle-Experten.
Der Wellness und Beauty Salon Carnival Health Spa2 ist ein in Dubai ansässiges deutsches Unternehmen und bietet - neben Spa-Dienstleistungen - professionelle Maniküre, Pediküre und Haarpflege an. Der Spa ist im feinen Jumeirah an der Al Wasl Road zu finden. Carnival Beauty kooperiert mit Schwarzkopf – eine Garant für professionelle Produkte für Frauen und Männer.
Article by Marla Maria
Pictures:  Paule Knete
Classy Dubai berichtet redaktionell und unabhängig. Als People Magazin stellen wir Menschen vor die uns bedeutsam für die Stadt und ihre Bewohner erscheinen. Classy Dubai erhält keinerlei Bezahlung. Wir freuen uns, wenn Sie uns schreiben an marlamaria@classy-dubai.com oder uns anrufen. Von 6 bis 13 Uhr deutscher Zeit sind wir auch tel. erreichbar unter  
+971 52 6878 839. Wir sind werbefrei, Sie helfen uns einfach indem Sie uns auf den Buttons unten liken und weiterempfehlen.
Folgen Sie "Classy Dubai" auf
Instagram classydubai_
Facebook https://www.facebook.com/classydubaiblog
Pinterest classydubai
youtube classydubai
---