Fashion (English & German)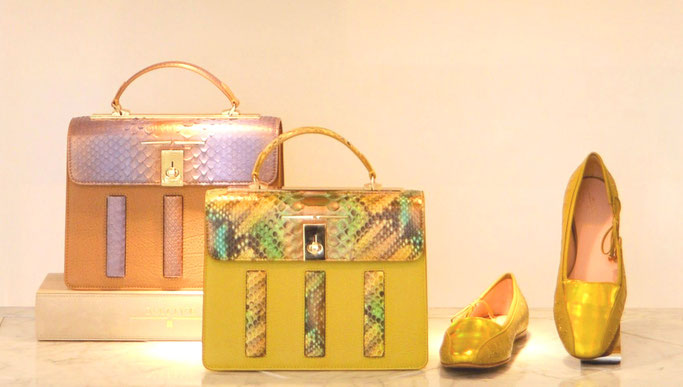 Dubai is best known for it's extravagance, especially when it comes to fashion. As you can find all international fashion brands in Dubai there is one high-end leather brand "Made in UAE" one needs to know for the season and you will certainly not want to miss any time soon.
We met the wonderful Rachna Malkani, founder and creative director of Native. Native is an exclusive brand developed and based in Dubai making luxury leather bags and shoes. Rachna and her husband Rahul working in leather products for over 10 years now. Their work is founded on appreciation and love for leather. They too have mastered the art of design, quality and craftmanship.
Rachna, tell us about your latest collection.
Our latest collection was launched, rather I would say it's elements, is something we launched in keeping the respect of a different mindset of clients. They want something classic, they want something simple. And if you´re looking out in the world today markets are changing. And we don't compromise on the quality. So we said as Native "How we can serve them? How we can go and fill this gap and provide them something they will still look at it as Native with same quality but they will feel that is much more approachable according to the trend." 
Fashion is a big topic in Dubai. What is your intention or trigger designing handbags?Honestly I wasn't actually intending to do this. It was only purely because of the love of the leather. Because we're in the leather manufacturing and we actually achieve the certain quality which we're very proud of. We saw what this region really lacked. We didn't see anything coming of that quality, something beautiful you wanna show it off.  So it was a very natural decision that we would want to. The only place you can show so much creativity is Fashion World. And Dubai is fashion. So like "Let's create something which is fashion oriented with this quality and it´s the time to shout out to the world saying 'Look what we have created in Dubai, which is a world class product, which people generally not believe.' Honestly they're not get it like "Really?" and we like "Yes. Really. It is made in UAE". That was the whole thought behind creating and giving much more soul the typical image Dubai had in the outside world.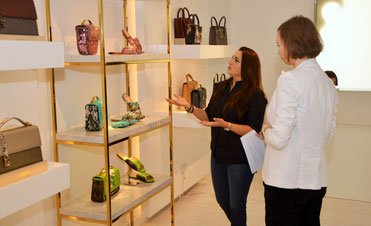 What material do you use? 
We're using a wide range of materials. We're are using calf, french bull and a lot of exotics. We were using camel as well. This is one of our specialties. But unfortunately we've not been able to be persistent with the supply resource. So we had to let to camel be one of our dependable products to be honest. So we sticked to the calfs and the french bull which is again a beautiful material. Some of them are very signature to Native. In exotic we´re very in love with the pythons especially the handpaited because it´s just so creative and the most beautiful thing you can lay your eyes on.
Native Shoes and Handbags are a brand "Made in Dubai"?
Does that mean: from the design to the manufacturing?
If I want to be technically I would say UAE. House of Native is in Dubai but the manufacturing in UAE. It is everything, from the concept, the designing and manufacturing everything is being done in UAE. And that is our whole pride because having a leather industry in UAE is not easy. There are no backup resources; nobody never imagine there would be anything like this ever born here.
Are you going to follow the fashion trends or you want to set your own trend? 
I cannot follow fashion trends. Not because I don´t admire them. Not because they don't do something great, of course every designer in their own league. They're doing something great. But as a human when I think of doing justice to what I have created as a brand I want to be authentic. I wanted to be that something comes from me, something that comes from my heart. It´s very important I get driven by my passion. I want to have a story in every collection. I want a message to be attached to the story. Because this is what we´re all about as human beings. It's one of your purpose as a human being to be able to spread whatever you feel you've learned. Make people grow with you in whatever way its possible. This is little effort from my side to stay away from chains because till I'm creating from my heart you see the soul in Native. You can see the things in bags. Their are just not bags there are so much more to it. And people feel it. I guess this feeling comes because it comes from the heart. Otherwise it´s not easy to have a bag. People can just say "Oh! Wow! Very good!" But when they see Native they say "Wow! There is a different sense to this."  and everybody wants to know the story. So, yes, I definitely follow the heart and my instinct. I'm a kind of person who doesn't really afraid to fail. At least I try it. If I don´t even try and I'm trying always to be in my comfort zone I'm lying to myself. I still stick to follow my heart.
Classy Dubai met Native in April 2016 at the #NativeDubai presentation at the Versace Palace in Dubai. We follow Native and their story since then and are in love with their beautiful collections.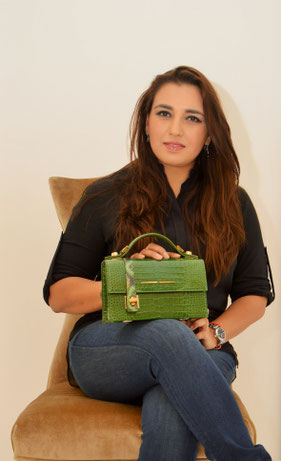 Native is a beautiful name for this brand and in my opinion, it´s the perfect match if you know the history behind your brand as this are local manufactured handbags.
What do you want to express with "Native?" 
Native: The moment I think of Native, I think of the word, is saying to belong to a feeling, to belong to a country, to belong to a soil. This has so many things attached to it. Living in Dubai I think it's one thing that does something very positive to you. Because you're exposed to so many cultures, to so many people you learn the art of acceptance and respecting people for who there are. And as Native we drive this very strong. Like We´re for non judgment mindset, we´re completely for not labeling. This is who we are. And its always a thought behind the word Native that you should be Native to your soul first. So when you can quench that part of your thirst and then everything else is close to fine. Because I love to learn. I love to know maybe there is another thought to that story. Let's hear it. 
Native brand has put the UAE on the global fashion map by producing local pieces that reflect beautiful, genuine craftsmanship.
---
Make people grow with you - Message in a handbag
In Dubai, ist bestens bekannt für seine Extravaganz, gerade wenn es um Mode geht, findet man alle Modemarken der Welt. Aber da ist jetzt eine Spitzen-Marke "Made in UAE" die man kennen muss und ganz sicher bald nicht mehr missen will.
Wir trafen die wunderbare Rechna Malkani, Gründerin und Cretive Director of Native. Native ist eine exklusive Marke, entwicklet und zu Hause in Dubai, die luxuriöse Leder-Handtaschen und Schuhe fertigt. Rachna und ihr Ehemann Rahul arbeiten mit Leder schon mehr als 10 jahre. Ihre Arbeit gründet sich auf Wertschätzung und Libe zum Leder. Sie beherrschen die Kunst Designs, Qualität und Handwerk zu verbinden.
Rachna, was kannst Du uns über Deine neueste Kollektion erzählen?
Unsere Kollektion, besser gesagt die Elemente, haben wir geschaffen in Hinsicht auf eine andere Einstellung von Kunden, die etwas anderes, klassisches, einfaches suchen. Schaut man sich heute die Welt da draußen an, sieht man wie die Märkte sich wandeln. Wir machen bei der Qualität keine Kompromisse. Bei Native haben wir uns gesagt: "Wie können wir dieses Klientel bedienen? Wie kann man diese Lücke füllen und ihnen etwas liefern das sie als Native sehen, mit der selben Qualität, aber bei dem sie fühlen das es dem Trend entsprechend mehr zum Anfassen ist."
Fashion ist ein großes thema in Dubai. Was ist der Auslöser gewesen Handtaschen zu designen?
Ehrlich gesagt war es gar nicht meine Absicht. Es war rein aus Liebe zum Leder, weil wir in der Lederbranche sind und diese bestimmte Qualität erreicht haben auf die wir sehr stolz sind.
Wir haben gesehen woran es in der Region wahrhaft mangelt. Wir haben nichts in dieser Qualität kommen sehen, etwas schönes das du stolz vorzeigen willst. So war es eine natürliche Entscheidung, es selbst zu machen und der einzige Platz wo man das tun kann ist die Fashion Welt. Und Dubai ist Fashion. So etwa "Lass uns etwas hochwertiges schaffen das fashionorientiert ist. Es ist Zeit der Welt zu sagen – schaut was wir in Dubai geschaffen haben, ein Weltklasseprodukt." Das haben die Leute allgemein nicht verstanden: "Wirklich? Echt?" und wir entgegneten "Ja, wirklich, es ist 'Made in UAE'." Das war der ganze Gedanke dahinter – kreieren und dem typischen Bild das die Welt da draußen von Dubai hat, mehr Seele geben.
Welche Materialien verwendet ihr?
Eine breite Palette von Kalb, french bull bis hin zu einer Reihe Exoten. Wir haben auch Kamel als eine unserer Spezialitäten. Doch leider haben wir keine nachhaltige Versorgungsquelle. Deshalb wenden wir uns mehr Kalb und French Bull zu, einem ebenfalls wunderschönen Material. Bei den exotischen Materialien lieben wir z.B. Python, besonders das handbemalte, weil es einfach so kreativ und das schönste Material ist, das ins Auge fällt.
Native Schuhe und Handtaschen sind eine Marke Made in Dubai. Bedeutet das vom Design bis zur Herstellung?
Technisch betrachtet würde ich sagen Made in UAE. House of Native selbst ist in Dubai beheimatet und die Produktion in den Emiraten. Alles, vom Konzept über das Design und bis hin zur Herstellung findet in den UAE statt. Und das ist unser ganzer Stolz, denn Lederbusiness in den UAE zu betreiben ist nicht ganz einfach, denn wir haben keine lokalen Ressourcen; niemand konnte sich bisher vorstellen das eine solche Idee hier hum Leben erweckt würde.
Folgst Du der Mode oder willst Du Deinen eigenen Trend setzen?
Ich kann den Fashion Trends nicht folgen. Nicht weil sie nicht mögen würde, und nicht weil sie nicht etwas großartiges wären. Natürlich spielt jeder Designer in seiner eigenen Liga und sie alle schaffen Großartiges. Aber als Mensch, wenn ich dem gerecht werden will was ich als Marke geschaffen habe, dann muß ich authentisch sein. Es sollte etwas sein, dass von mir kommt, von meinem Herzen. Angetrieben werden von meiner Leidenschaft, dass ist mir sehr wichtig. In jeder Kollektion möchte ich eine eigene Story erzählen. Und ich will mit dieser Story eine Botschaft verbinden. Das ist es doch worum es uns Menschen geht. Es ist einer unserer Bestimmungen als Mensch in der Lage zu sein, dass zu verbreiten, was Du vom Leben gelernt hast. Lass die Menschen mit Dir wachsen, in jeder denkbaren Art. Deshalb kreiere ich direkt von meinem Herzen und Du kannst diese Seele sehen in Native. Das kannst Du in den Handtaschen sehen. Das sind nicht einfach Taschen, da ist soviel mehr und die Menschen fühlen das. Die Leute könnten ja einfach sagen "oh, wow, sehr schön!" Aber wenn sie Native sehen dann sagen sie "Wow! Da steckt ein anderer Gedanke drin. Und jeder will die Story wissen. Deshalb, ja, ich folge definitiv dem Herzen und meinem Instinkt. Ich bin die Art Person, die sich nicht vor Fehlschlägen fürchtet. Zumindest versuche ich es. Würde ich das nicht tun und nur versuchen in meiner Comfortzone zu bleiben, würde ich mich selbst belügen. Ich bleibe dabei: Folge deinem Herzen!
Native ist ein wunderbarer Name für diese Marke und meines Erachtens passt er perfekt, wenn man die Geschichte dahinter und Deine Marke kennt, die der hier geschaffenen Handtaschen. Was willst Du mit Native ausdrucken?
In dem Moment wo ich an Native denke, denke ich an ein Wort das zusammen gehört mit Gefühl, mit diesem Land, mit der Erde hier und da sind noch viele andere Sachen, die damit zusammen hängen. In Dubai zu leben, denke ich, ist eine Sache die Dir etwas wunderbares positives gibt. Hier erlebst Du soviele Kulturen und soviele verschiedene Menschen. Hier lernst Du die Kunst die Menschen zu akzeptieren und respektieren und dass was sie sind. Und als Native vertreten wir das intensiv. Unsere Einstellung ist vorurteilsfrei ohne jedes Schubladendenken. Und der Gedanke hinter Native ist das Du zunächst so "Native" zu deiner Seele sein solltest. Wenn Du diesen Teil Deines Durstes stillen kannst, dann ist auch alles andere schon fast gut. Ich liebe es mehr zu erfahren, ich liebe es zu wissen, vielleicht ist da noch ein ganz anderer Gedanke hinter der Story. Lass ihn uns hören.
Mit der Marke Native haben die UAE einen weiteren Pin auf der Weltkarte der Mode mit ihren einheimischen Stücken gesetzt, die wunderschönes, echtes Handwerk reflektieren.
Interview: Marla Maria
Pictures:  Paule Knete
Classy Dubai berichtet redaktionell und unabhängig. Als People Magazin stellen wir Menschen vor die uns bedeutsam für die Stadt und ihre Bewohner erscheinen. Classy Dubai erhält keinerlei Bezahlung. Wir freuen uns, wenn Sie uns schreiben an marlamaria@classy-dubai.com oder uns anrufen. Von 6 bis 13 Uhr deutscher Zeit sind wir auch tel. erreichbar unter  
+971 52 6878 839. Wir sind werbefrei, Sie helfen uns einfach indem Sie uns auf den Buttons unten liken und weiterempfehlen.
Folgen Sie "Classy Dubai" auf
Instagram classydubai_
Facebook https://www.facebook.com/classydubaiblog
Pinterest classydubai
youtube classydubai
---