People (German & English)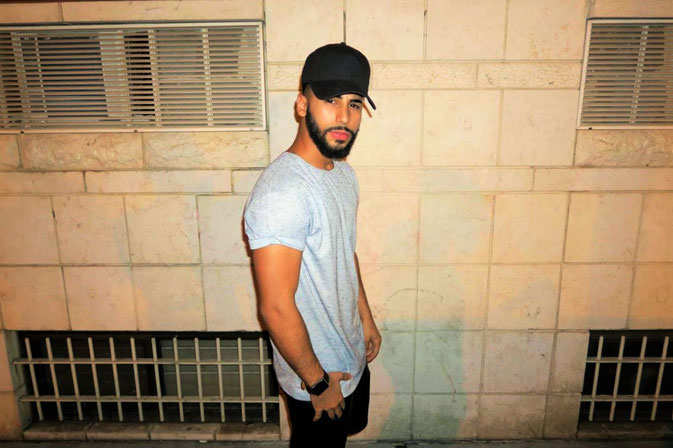 Adam Saleh ist ein bekannter amerikanischer YouTube-Promi, Schauspieler und Rapper aus New York City. Mit fast 3 Millionen Abonnenten ist er zu einer YouTube Sensation aufgestiegen und hat die Herzen vieler mit seinen gesellschaftlichen Experimenten und Streichen erobert.
Seine Popularität hat ihm im Laufe seiner Karriere weltweite Touren eingebracht; er war zu Gast bei der "The Ellen Show" bei der BBC. Adam hat erfolgreich Singles veröffentlicht, in Filmen mitgespielt und engagiert sich in Charity Aktionen. 
Jetzt wird der Künstler zum ersten Mal in Dubai performen. Begleiten Sie ihn zum Spaß, Lachen und seine üblichen Streiche!
Du bist in New York geboren und aufgewachsen, hast arabische Wurzeln. Was bedeutet es für Dich in UAE aufzutreten?
Ich fühle mich zuhause, wenn ich hier auftrete. Seit ich weiß, dass ich in Dubai auftreten werde, hatte ich gleich ein gutes Gefühl und eine gute Verbindung.
Was können wir von Deiner Show erwarten?
Ich werde meine Songs vorstellen und Comedy, aber hauptsächlich werde ich wohl Sketche bringen. Ich werde Geschichten erzählen und inspirierende Gespräche führen. Die Herausforderung wird sein, das Publikum zu involvieren und ihre Fragen zu beantworten.
Hast Du ein Musikalbum geplant? 
Nicht jetzt, aber ich plane mehr Songs zu veröffentlichen.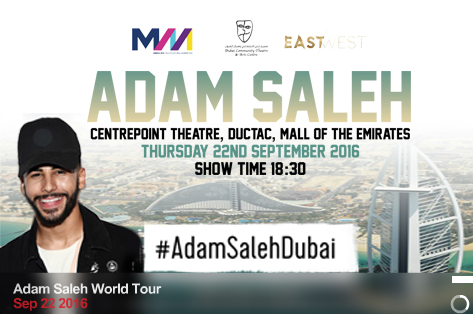 Es ist für Dich das erste Mal das Du in Dubai performst. Aber ist es auch das erste Mal das Du hier in Dubai bist?
Ich bin 2014 schon einmal in Dubai gewesen. Aber ich habe hier noch nie performt. Ich bin gewachsen, seit ich das letzte Mal hier war.
Was willst Du machen, wenn Du keine Auftritte hast?
Ich will Dubai erkunden, shoppen gehen in der Dubai Mall und zu den besten Restaurants in der Stadt.
Befürchtest Du das angesichts von Ruhm und Geld von deiner Umgebung ausgenutzt werden könntest?
Nein, das fürchte ich nicht, aber Allah. Ich bin dankbar, dass ich meine Familie und Freunde an meiner Seite habe, die mich auf dem Boden der Tatsachen halten und mich von Negativem fernhalten. Ich bin gern mit Menschen zusammen die mich happy machen und positiv sind.
Wie Du wahrscheinlich weißt, veröffentlichen wir hier für die Deutschsprachigen in Middle East. Hast Du Pläne Deutschland zu besuchen oder auf dort aufzutreten? 
Ja! Und ich liebe Deutschland. Es gehört mit zu meinen Lieblingsländern. Ich will eine Deutschlandtour machen, es ist so groß!
---
Adam Saleh in Dubai
Adam Saleh is an American YouTube personality, vlogger, actor and rapper from New York City. Sitting on almost 3 million subscribers collectively on his main channel and on his daily vlogging channel, Saleh has become a YouTube sensation capturing the hearts of many with his social experiments and pranks going viral.
Due to his rapid growth and popularity on YouTube, he has taken part in many events throughout his career from worldwide tours, performing in front of thousands of people to appearing on shows such as The Ellen Show, The BBC and more. He has released successful singles, starred in a movie, and has been deeply involved with charity work and bettering his community.
Now he will be performing in Dubai for the first time! Join him for fun, laughter and his usual pranks!
You´re born and raised in NY, you have arabic roots. What does it mean to you to perform in the Middle East/UAE?
I feel like I'm home performing in the Middle East. It's a good feeling and a good connection that I already have knowing I'll be performing in Dubai.  
What can we expect of your show?
I perform my songs in my shows. I do some stand-up comedy but I do more of comedy skits. I also do story telling and inspirational talks. Challenges involving the crowd and question answers.
Is there a music album planned?
Not that I know of. But I am planning on releasing more songs.
It´s the first time you're performing in Dubai. But is it also your first time here in Dubai/UAE? 
I've been to Dubai in 2014. But I've never performed in Dubai. I grew a lot since last time I was there. 
What are your plans/activites in Dubai in your spare time/when you are not performing?
In my spare time in Dubai, I want to explore the city, go shopping in Dubai mall and go to the best food places. 
Finally, do you ever fear getting sucked in by the money and celebrity status that comes from fame?
No, I don't fear anything but Allah. I'm grateful to have my family and Adoomygang by my side to keep me who I am and to keep me humble and away from any negativity. I appreciate everyone who keeps me happy and positive. I stay away from anything negative.
As you probably know we publish for German speaking community in ME. Do you have plans for visits/performance in Germany? 
Yes! I LOVE GERMANY, it's one of my favorite countries!! I want to do a Germany tour since it's so big!
Text: MarlaMaria / Paule Knete
Fotos: Adam Saleh
Classy Dubai berichtet redaktionell und unabhängig. Als People Magazin stellen wir Menschen vor die uns bedeutsam für die Stadt und ihre Bewohner erscheinen. Classy Dubai erhält keinerlei Bezahlung. Wir freuen uns, wenn Sie uns schreiben an marlamaria@classy-dubai.com oder uns anrufen. Von 6 bis 13 Uhr deutscher Zeit sind wir auch tel. erreichbar unter  
+971 52 6878 839. Wir sind werbefrei, Sie helfen uns einfach indem Sie uns auf den Buttons unten liken und weiterempfehlen.
Folgen Sie "Classy Dubai" auf
Instagram @dubaiclassy
Pinterest @classydubai
Facebook https://www.facebook.com/classydubaiblog
Twitter @classydubai
---