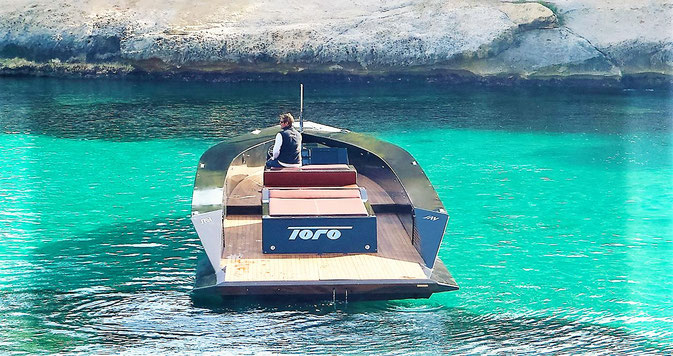 McLaren, Ferrari, Lamborghini on the streets of Dubai - that's nothing special for Dubai's inhabitants. The locals and wealthy expats, always looking for something new and are well-known speed lovers, will meet a new extravagance. Boat lovers are in for a surprise. 
Why be one of many who cruise in expensive luxury cars through the streets if you can stroll on the new Canal of Dubai with a speedboat?
SAY has developed a new generation of super sports yachts called Speed Art Yachts. SAY set up its headquarters and production plant in Germany and has become, in a short time, a well-known label for exceptional speedboats; with a design whose outstanding clear modern lines chime together with the power of the machine. Each boat is individually handcrafted to the last detail in Germany. Sensational colors that move away from the traditional white towards the style of exclusive sports cars. The spirit and styling from car racing is unmistakable - and new in boat building. A quantum leap forward in performance, design and power. 
High time for a meeting before the summer empties the city. At the Sheraton I met, a few days later, Markus Seidl; a real pro. You understand immediately: The man, down to earth, experienced, knows what he is talking about.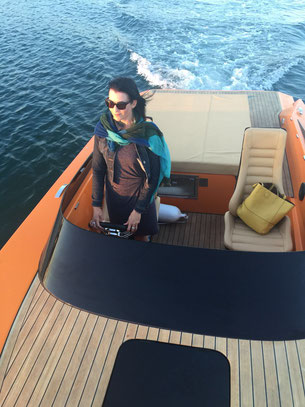 Your Speedboats are something completely new and caused a sensation from Europe to America already. What is special about it?
I think a good place to start it to explain the name of the company, S.A.Y. It means Speed Art Yachts. Firstly, you should know that we have a long and successful history in carbon fibre construction for super sport cars and in Formula 1. Carbon fibre is an extremely strong, light, and high-end material which is used extensively in the chassis for Forumula 1 racing cars, a technique known as monocoque.
Another example of using carbon fibre is in Emirates's fleet of Airbus A380s. Each aircraft has a body made entirely out of carbon fibre which makes it much lighter.
So our powerboats are made from the same material which leads to a 30-40% reduction in weight compared to traditional boats. This leaved to increased ENDURANCE, increased SPEED, increased EXPEDITION and of course its enormous fun to drive!
SAY is the "AMG" of the sea, like Lamborghini's or McLaren on water. Leading in design, power, performance. And our idea was, to bring this super performance material into a new unique luxury powerboat styling line. And the great international feedback is confirming our work.
How did you start boat building? We heard about Formula 1 …
After our very successful motorsport, Formula 1, DTM and automotive OEM businesses, we were searching for a new challenge. Around this time some of our team were meeting for dinner at a nice harbor in a great restaurant overlooking a beautiful sea view. We were discussing the future of the business and new applications for carbon fibre outside of the automotive industry. During the dinner we saw many powerboats in the harbor and noticed that all the boats were the same style and colour. There were no really exciting designs or colours. So we decided there and then to begin this new challenge. In 2014 we invested in a carbob fibre boat company at Lake Constance (between Munich and Zurich) and in 2015 we invested for the growth of the company in a 3,120 m² powerboat production plant at Wangen.
What is the formula for success of your powerboats?
Firstly, high-end powerboats for unique people. High-Performance materials for high performance products, highest Quality Standards (based on automotive engineering level). A combination of unique boat- and hull styling (trend-setting desgin), with original sportcars- and fancy colours.
Secondly, we always try to consider clients requests & wishes to configure their own ultimate powerboat. The client can choose leather trim, Interior, hull colours and of course propulsion (JET-Drive, Z-Drive, or Outboards).
Thirdly, almost NO LIMITS. As "the" powerboat manufacturer there are almost no limits for requests, for an example a businessman which  is involved in the Rally-Sport-Business, ordered a SAY 42 Speedster with a 2.200hp turbine power unit plus two V6 Diesel engines each 300hp!  
An amazing project and we are already happy to do the test-drive! I guess, for such amazing unique powerboat projects, we also will find clients in the UAE.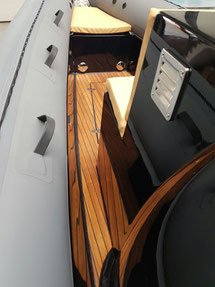 Everything "Made in Germany"?
Yes, I confirm almost 100% of all our powerboats are designed, engineered and produced in Germany (also labeled with Made in Germany). All the carbon elements, the complete hull structure & the assembly are done by our team. The wooden teak floor and also the interior leather trim is done by local German partners. But of course the engines, JET-Drive, are purchased by external suppliers. We always try to consider the client requests and configure and produce the powerboat to our client's unique requirements. 
We see in Dubai often the long-known boats with which many cruises on the Creek or in the Gulf. 
Who may drive one of your  speed boat? Who is the target audience?
Everyone can drive these powerboats with license of CE-Category B or C. 
You can never drive a slow boat fast, but you can drive a fast boat slow! (He smiles.) One SAY 29 is located at San Francisco / US and the guy is using it daily to come to his job. The target group are persons who like luxury, performance with unique elements. Maybe sportscar owners or business persons. Very surprisingly also many women love the design, interior and the nice colours. During some exhibitions I have personally heard, where some women have asked their husband, "Why don't you buy this SAY carbon fibre powerboat for us, it's an amazing style. I like it?".
Can you tell us about the prices?
In my thinking, if you are considering to buy a high-class customized CARBON FIBRE powerboat, then the current sales prices are too low for the product performance we deliver. But, we thought, if you are new to the market and just start marketing then you cannot be the most expensive supplier.
The prices are in a range from $ 295.000 (for SAY 29 Runabout) up to $ 950.000 (SAY45 Speedster). At our German SAY office we are happy to prepare your personally SAY offer for your first real carbon fibre SAY powerboat.
In the Emirates the yacht is bon ton and now as we heard is it the powerboat? How has it come to pass?
Everybody knows, in the UAE / Dubai and Abu Dhabi you can see many luxury and super-sport cars on the road every day, such cars you normally only can see at sport cars events. The people here love power, they love to have fun, they love unique elements. Some of them like speedy things and like carbon fibre. The materials which we are using is absolutely the same as on their own Ferrari, McLaren, Lamborghini, Bugatti or Aston Martin.
To be an owner of a unique SAY speedboat does not only mean you must drive fast, but you can drive fast whenever you like too (if your wife gives permission to go faster). I personally drive a 620hp Audi RS6 MTM-Edition, a nice car and not boring, but our SAY 29 Carbon Runabout has similar high speed values on water, and that is a really COOL fact. As you know the new water canal through Dubai city will be finished soon and then the new "Main Road" is the water canal, many people will recognize that they would need a new nice fancy powerful water toy and SAY have the answer for them.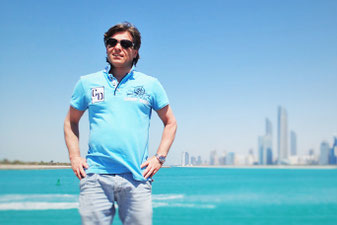 Speedboats are surely interesting for Navy or coastal protection? Is there already resonance?
Absolutely, due to the massive weight saving these powerboats are the most efficient solution for Governments, Police, Harbor Patrol, Customs, Special Forces but also for Oil- & Gas Companies. The C-RIBs (Carbon Rigid Inflatable Boats) can be equipped with life rafts and integrated communication system, therefore ideal for Sea Search- & Rescue Operations. SAY have generated a new level of powerboats "C-RIBs" our powerboats are 35% lighter, ideal for air-launch or high speed (rescue) operations. Only one example, our SAY RIB 31feet (almost 10,0meter length) fully equipped do have a total boat weight of 1.380kg (= 3.042 lbs) nobody can beat these figures. Of course we already have international enquiries from Coast Guards, Harbor Police departments and Oil Companies.
Thanks for the interview and we are happy to accompany the first trip of a SAY in Dubai. 
As a German lifestyle magazine, we are impressed by the SAY symbiosis of modern design and German quality. We are looking forward to the first power boats that brings in pleasant colours and stylish alternatives to the current dominant unit white (one color fits all) on Creek, Canal and marinas.
Contact:  www.say-yacht.com / markus.seidl@say-yacht.com
Interview: Paule Knete
Fotos: Say GmbH
Classy Dubai berichtet redaktionell und unabhängig. Als People Magazin stellen wir Menschen vor die uns bedeutsam für die Stadt und ihre Bewohner erscheinen. Classy Dubai erhält keinerlei Bezahlung. Wir freuen uns, wenn Sie uns schreiben an marlamaria@classy-dubai.com oder uns anrufen. Von 6 bis 13 Uhr deutscher Zeit sind wir auch tel. erreichbar unter  
+971 52 6878 839. Wir sind werbefrei, Sie helfen uns einfach indem Sie uns auf den Buttons unten liken und weiterempfehlen.
Folgen Sie "Classy Dubai" auf
Instagram @dubaiclassy
Pinterest @classydubai
Facebook https://www.facebook.com/classydubaiblog
Twitter @classydubai
---