Kunst & Kultur (German and English)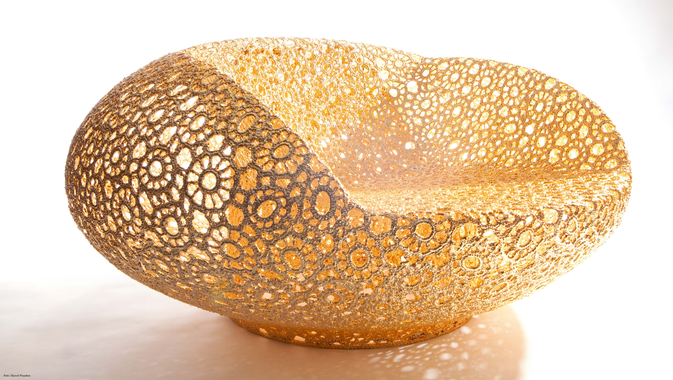 Kunst zum Anfassen und drauf sitzen. Jahr ein, Jahr aus: Das große weiße Zelt am Emaar-Boulevard kommt regelmäßig und verschwindet wieder. Am besten Platz – direkt neben dem Burj Khalifa – sind die Leinwand-Hallen stets das sichere Zeichen, etwas Mondänes ist im Schwange. Exklusive Fashion- oder Designausstellungen, die es zu besuchen sich unbedingt lohnt.
Wie diese Woche. Zum fünften Mal finden im Rahmen der Art Dubai (noch bis zum 18. März) die Design Days Dubai statt; eine der exklusivsten Sammler-Design-Messen ihrer Art. Der Schirmherr der Art Dubai, Kronprinz Sheikh Hamdan bin Mohammed bin Rashid Al Maktoum, kann von sich durchaus behaupten, das Emirat zu einem Drehkreuz für Kunst und Kultur zu entwickeln – auf dem Weg zur Weltgeltung.
Für Kenner der Designszene ist es ein Muss an den Design Days teilzunehmen. Die Exhibition präsentiert, im Gegensatz zu Kunstausstellungen, Gebrauchs- und angewandtes Design. Es spricht für das besonnene Konzept, wie hier auf Qualität und Erlesenheit statt auf eine Großshow gesetzt wird. Trotzdem oder gerade deshalb kamen 2015 rund 16.000 Besucher in fünf Tagen. Design Days Dubai 2016 nun zeigt 750 Exponate von 45 Designern aus 20 Ländern, wie The Carpenter´s Gallery aus UK, Galerie Gendras Regnier aus Paris oder Colectivo Amor De Madre aus Sao Paolo. Möbel, Lichtobjekte, Teppiche bis hin zu den "Spirit of the Nature"-Diamanten von Van Cleef & Arpels.
Einer der Stars der Ausstellung ist der niederländische Produktdesigner Marcel Wanders. Zu seinem Debüt präsentiert er u.a. seinen berühmten Bon Bon Chair und sein Buch "Rijks Masters of the Golden Age"; ein 35kg schwerer Schmuckband mit Reproduktionen und Handschriften auf textilen Seiten. 
Die Design Days zeigen auch, wie am Beispiel der Designerin Aljoud Lootah und ihrer von Origami inspirierten Oru Stuhl und Oru Lampe, dass die junge Designer-Generation aus dem eigenen Land nachrückt.
Über Geld spricht man. Die Preise der Ausstellungsstücke liegen zwischen 5.000 USD bis 500.000 USD. Dubai zeigt, wie mit Design Geld verdient wird. Auf der Pressekonferenz war zu hören, dass die Art Dubai/Design Days 2015  35 Mio. $ in die Stadt brachten. Darunter durch 27.500 Hotelübernachtungen. Magnet Design: 46% der Besucher kamen extra wegen der Ausstellung nach Dubai. 6.000 Objekte wechselten den Besitzer. 60% der Einnahmen des lokalen Kunstmarktes datierten auf diese Woche!
Während der Design Days gibt es eine Reihe von Vorträgen und Podiumsdiskussionen mit Designern, Ausstellern und Kuratoren, Live-Performances, Mentorengespräche oder Workshops, wie bei Van Cleef & Arpels, wo man lernen kann, ein Schmuckstück selbst anzufertigen.
Time is flying. Wir nutzen die Zeit, all die Juwelen anzuschauen, wie die Design Days am Burj oder die grandiose Dubai Photo Exhibition im Dubai Design District.
Ausstellungsinformationen
Design Days Dubai
14.-18. März 2016
17.03.2016 von 16 – 22 Uhr
18.03.2016 von 13 – 19 Uhr
The Venue, Downtown Dubai
Text: Marlamaria
Fotos: Paule Knete 
Classy Dubai berichtet redaktionell und unabhängig. Als People Magazin stellen wir Menschen vor die uns bedeutsam für die Stadt und ihre Bewohner erscheinen. Classy Dubai erhält keinerlei Bezahlung. Wir freuen uns, wenn Sie uns schreiben an marlamaria@classy-dubai.com oder uns anrufen. Von 6 bis 13 Uhr deutscher Zeit sind wir auch tel. erreichbar unter  
+971 52 6878 839. Wir sind werbefrei, Sie helfen uns einfach indem Sie uns auf den Buttons unten liken und weiterempfehlen.
Folgen Sie "Classy Dubai" auf
Instagram @dubaiclassy
Pinterest @classydubai
Facebook https://www.facebook.com/classydubaiblog
Twitter @classydubai
---
DESIGN DAYS DUBAI COMPLETES ITS FIFTH AND MOST SUCCESSFUL EDITION TO-DATE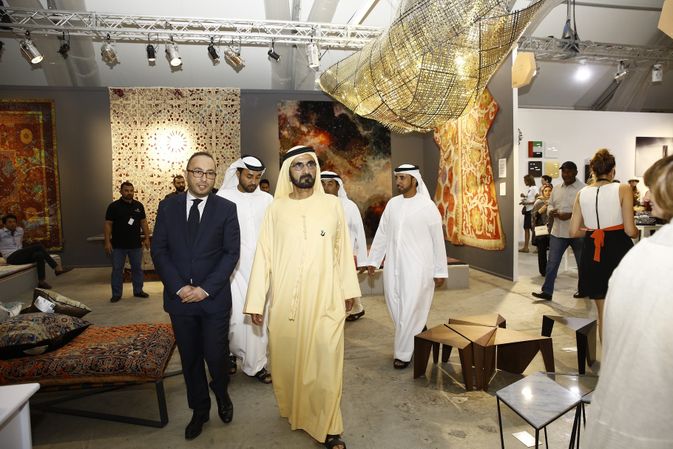 •    The Middle East and South Asia's only collectable design fair was opened by HH Sheikh Mansoor bin Mohammed bin Rashid Al Maktoum and had a visit from HH Sheikh Mohammed bin Rashid Al Maktoum, Vice President and Prime Minister of the United Arab Emirates, and Ruler of Dubai.
•    The design fair welcomed more than 13,500 visitors
•    625 people attended the fair's expanded public programme of talks and workshops, sponsored by Dubai Design District. 

•    The most diverse fair to date with design from 37 countries including a record number from the Emirates and MENASA region.
Dubai, UAE - Sunday March 20, 2016. Design Days Dubai, held under the patronage of His Highness Sheikh Hamdan bin Mohammed bin Rashid Al Maktoum, Crown Prince of Dubai, and held in partnership with Dubai Culture & Arts Authority, wraps up its fifth edition as its most successful to-date. 

The Middle East and South Asia's only collectable design fair was opened by HH Sheikh Mansoor bin Mohammed bin Rashid Al Maktoum with a weekend visit from HH Sheikh Mohammed bin Rashid Al Maktoum, Vice President and Prime Minister of the United Arab Emirates, and Ruler of Dubai and many other local and regional dignitaries.
Design Days Dubai, which presents purchasable and highly desirable contemporary design, closed its doors on Friday (March 18), having staged a record-breaking fair for 2016; attracting increased visitor numbers of 13,500 people and having featured 185 designers from 37 countries and more than 750 pieces of collectible design on display.
Returning to the prestigious temporary location of The Venue, next to the world's tallest building, the Burj Khalifa, in Downtown Dubai, Design Days Dubai has the continued generous support of returning sponsors: French high-jewellery maison Van Cleef & Arpels, Emaar, Audi and Dubai Design District (d3).
Design Days Dubai's fair director, Cyril Zammit, said: "We are proud that in Design Days Dubai 2016 closes as the most successful edition yet. The fair saw the highest visitor numbers and was again the world's most diverse international design fair. The mood within the fair across exhibitors and visitors alike was electric in its positivity, the public programme well-attended and exhibitors reported strong sales. With a record 50 percent of design on display was from the UAE and MENASA region, Dubai has again reinforced its position as the regional centre of design and we look forward to continuing that fantastic momentum throughout to return in 2017 for our 6th edition."
A successful show for exhibitors
Exhibiting galleries and solo designers reported strong interest and sales over the course of the fair, citing the fair's increasing development of broad international and regional networks which, for the first time this year, included a dedicated professional buyers preview (targeting architects, interior designers, specifiers) and an #Empty bloggers/instagramers preview, as well as the popular annual ladies and VIP collectors previews.
First time solo exhibitor Loulwa Al-Radwan, Kuwait, said: "It's a great platform for someone like me and has given me great exposure. It's the first time that I have exhibited as an independent designer and I feel that I have really benefited. I've made contacts, sold some pieces, have met many new galleries and I'm now also looking at some possible future collaborations."
Global Reach
Demonstrating the importance of Design Days Dubai as a platform for reaching a global audience, the fair welcomed 5 all-female designers of Saudi Design Week (presented by the new King Abdulaziz Center for World Culture, Dammam), a group show of 8 Shanghai-based designers supported by UNESCO Creative Cities (Shanghai) Promotion Office and 14 Dutch designers under Dutch Creative Industry, all for the first time; and, welcomed back Crafts Council (UK) with selected works from 11 rising stars and established designers and 3 locally-based designers from Tashkeel's Tanween design programme.
Anabelle Gersigny, Strategy and Partnership Development Manager of Tashkeel, said: "It has been a fantastic fair - the response to our designers has been overwhelming. We are excited to be launching the next year of the Tanween Programme from a springboard of energy and enthusiasm for design in the Middle East that is so apparent at Design Days Dubai."
Community Engagement
For 2016, Design Days Dubai extended its free-to-attend public programme which, in partnership with d3, saw participants experience, engage and interact with design on many diverse levels: from discussing design processes, theory and trends with designers from the world over, to getting hands on in workshops, to sitting down with designers one-on-one in Design Days Dubai's one-of-a-kind mentorship sessions. Over the course of the fair, 625 participants took part in the public programme, its highest turn-out yet, which included a packed auditorium for the fair's opening keynote with world-renowned Dutch designer Marcel Wanders.
"As the fifth edition of Design Days Dubai come to a close, we're thrilled to have once again been part of what is a leading global fair that supports the region's local emerging talent. Our commitment to this cause, and our support of activities such as the public programming, Urban Commissions and WASL exhibition is vital to the development of the art and design industry, and is also central to our core vision of nurturing and facilitating the growth of these sectors," said Mohammad Saeed Al-Shehhi, d3's Chief Operating Officer.
In addition to the public programme, the fair's unique outreach programme welcomed 32 school and university groups from the UAE, Iran, Lebanon and Oman, further opening the doors to design to the younger generation.
For more information about Design Days Dubai 2016, please visit the bi-lingual website, www.designdaysdubai.ae. Supporters can also keep up to date with the fair on the following social media channels: Facebook Instagram Twitter
About Design Days Dubai
Now in its fifth edition, Design Days Dubai is the first design fair of its kind in the Middle East, bringing the most exclusive selection of purchasable, limited-edition design to the region. A showcase of desirable, rare and unique design creations, Design Days Dubai will be held from March 14-18, 2016, to coincide with Art Week, the city's premier art event. Design Days Dubai will again be located at its dedicated premises; The Venue, Mohammed bin Rashid Boulevard, Downtown Dubai.
Photo: Design Days Dubai