Kultur (German and English)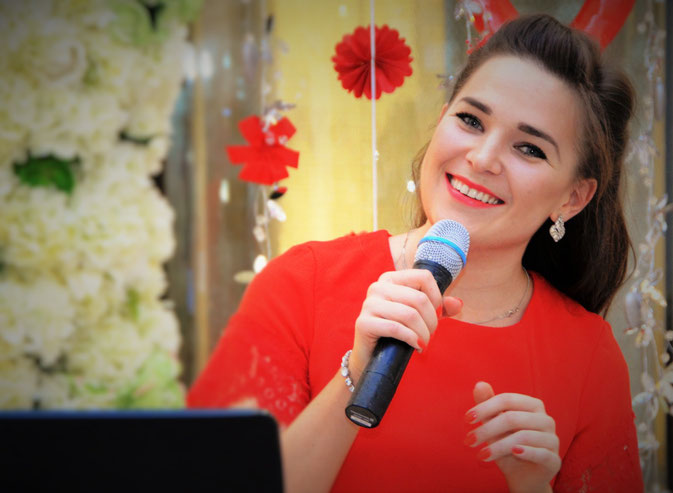 Beth Burrows ist ein kreatives Multitalent. Bevor sie nach Dubai kam, hatte sie führende Rollen auf den Bühnen Londons. Sie hat für Sir Andrew Lloyd Webber und Sir Paul McCartney gesungen. Wer sie auf der Bühne erlebt, darf ein abwechslungsreiches Repertoire genießen - wie wir uns überzeugen konnten. Ihre Valentinstag-Show "LOVE" war ein unterhaltsamer Mix aus Gesang und humorvollen Rezitationen aus Stücken von Shakespeare oder dem Film "Bridget Jones". Beth Burrows hat uns aus ihrem Künsterleben erzählt.
Sie sind Sängerin, Schauspielerin und Moderatorin. Das hört sich sehr glamourös an...
Das kann es tatsächlich sein. Hinter den Kulissen kann es etwas verrückt zu gehen, aber auf der Bühne ist es absolut glamourös. Bei meinen, meist abendlichen Moderationsauftritten, trage ich Kleider und um das richtige Haarstyling und Make-up kümmert sich ein professionelles Team von Stylisten. Wenn ich singe, kann es schon mal etwas entspannter zugehen. Ich style mich jedoch immer, um einen Eindruck zu hinterlassen.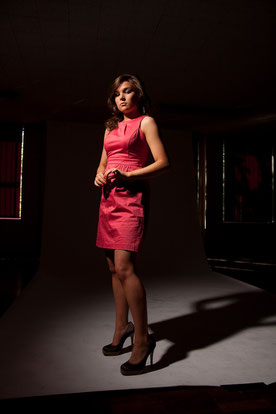 Sie sind ausgebildete Sängerin?
Ich habe am Musical Theater "Royal Welsh College of Music and Drama" studiert - die Nummer Eins der Drama-Schulen in England. Zuvor hatte ich "Englisch und Drama" an der Universität von Bristol belegt. Als Teenager wurde ich ausgewählt, beim "National Youth Music Theatre" aufzutreten, was ein großartiger Ort war, Performance zu lernen.
Welche Musik singen Sie? Schreiben Sie eigene Songs?
Wenn ich als Sängerin auftrete, singe ich von Pop bis zur Oper. Ich schreibe eigene Shows in der Gesang, Schauspiel und Film verschmelzen. Letztes Jahr habe ich das Stück "Sirens of the Silver Screen" geschrieben, ein Kabarett in drei Akten, über Judy Garland, Audrey Hepburn und Marilyn Monroe. Das war eine großartige Erfahrung, ich bin für zwei Monate in die Welt des Hollywood-Glamours eingetaucht, um alles über die drei Frauen herausfinden zu können. 
Meine aktuelle Show heißt "L.O.V.E." Es ist eine Kollektion von Liebesliedern, Gedichten, Stücken aus Film und Theater (von Shakespeare bis Bridget Jones). Ich hatte es eigentlich für den Valentinstag geschrieben, doch nun buchen es Hotels gern für ihre Nachtprogramme.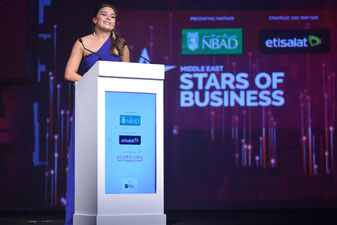 Wo treten Sie auf?
Meist trete ich in den Top-Hotels von Dubai und auch in Abu Dhabi auf, werde von großen Unternehmen gebucht oder für Events zu Markeneinführungen.
Ich bin Moderatorin vieler Preisverleihungen oder interviewe hochrangige Geschäftsleute und VIP vor der Kamera. Meine Stimme kann man auch als Voicecover im TV und in Werbespots hören.
Wann sind Sie nach Dubai gekommen und was hat Sie hierher geführt?
Zum ersten Mal kam ich 2013 für einen Monat nach Dubai, als Privatlehrerin für die Kinder eines der Scheichs, die im Burj Khalifa residierte. Mir fielen schnell die Möglichkeiten für Darsteller in Dubai auf. Zu jener Zeit trat ich in London in Shows und Musicals auf. Doch der Lebensstil von Dubai erschien mir reizvoller und so fiel die Entscheidung nicht schwer nach Dubai zu ziehen und seit November 2014 lebe ich hier.
Was tun Sie lieber? Singen, schauspielern oder moderieren?
Die Frage ist schwer zu beantworten. Ich liebe alle aus verschiedenen Aspekten: Singen erlaubt mir die Menschen durch die Musik zu erreichen, als Schauspielerin kann ich in verschiedenste Rollen schlüpfen und beim Moderieren kann ich in interessante Geschichten erzählen. Doch müßte ich mich zwischen diesen entscheiden, würde ich singen wählen, da es sich am vertrautesten anfühlt.
Gibt es einen Lieblingsplatz für Ihre Performance?
Ich trete wirklich überall sehr gern auf. Doch singen am Strand ist einfach wunderschön, wenn die Sonne untergeht und Du im Hintergrund die Wellen rauschen hörst.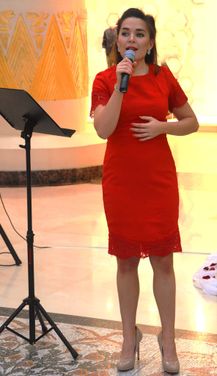 Was sind Ihre Pläne?
Ich arbeite gerade an einigen sehr interessanten Projekten, eines davon ist "Sirens of the Silvercreen" (Sirenen der Leinwand) und die anderen sind noch geheim. Darüber darf ich noch nicht sprechen; was ich sagen kann: Einfach auf meiner Webseite www.bethburrows.com vorbeischauen, dort werden in Kürze meine neuen Projekte veröffentlicht.
Abgesehen davon werde ich noch bis Ramadan mit Gesangs-, Moderations- und Performanceauftritten beschäftigt sein. Zwischen jetzt und Ramadan ist die geschäftigste Zeit des Jahres. Ich werde in den Sommermonaten an einer neuen Show schreiben und diese dann im Herbst präsentieren.
Wen Sie nun in Dubai eine der Odysseusschen Sirenen zu hören glauben, kann es durchaus Beth Burrows sein. Doch diesem Locken folgen wir gern.
---
Captivating, sophisticated and unique...'
Beth is an exciting and versatile performer. With an MA in Musical Theatre from the Royal Welsh College of Music and Drama, she is an accomplished presenter/MC, actress and singer. 
Before moving to the Middle East Beth took leading roles on the London stage, singing for Sir Andrew Lloyd Webber and Sir Paul McCartney, amongst others. In the GCC she is in demand as a popular performer, hosting high profile awards ceremonies in Abu Dhabi and shooting commercials for big brands in Dubai. She also creates original shows on a commission basis for the UAE's top entertainment venues and hotels. 
Whether you are looking for an eloquent MC, stylish singer or charismatic actress Beth is sure to fit the bill. 
You are a singer, actress and presenter. It sounds very glamorous. Is it like that?
It certainly can be! Behind the scenes can get a little manic, but on stage it's a very glamourous affair. For my presenting and MC work I'm normally in an evening dress with my hair and makeup done by a professional team. My singing performances can be a little more relaxed, but I still dress to impress.
What training have you enjoyed?
I trained in Musical Theatre at the Royal Welsh College of Music and Drama, the number one drama school in the UK. Prior to that I read English and Drama at the University of Bristol. I was also selected to be part of the National Youth Music Theatre when I was a teenager, which was a great place to learn about performing.
What kind of music are you performing? Do you write your own performances?
In terms of my singing work, I perform all styles of music – from pop to opera. I also write original shows fusing singing, acting and film. Last year I wrote 'Sirens of the Silver Screen', a three act cabaret about the lives of Judy Garland, Audrey Hepburn and Marilyn Monroe. I spent two months immersing myself in the world of Hollywood glamour and finding out absolutely everything about the women – it was great!
My most recent show is called L.O.V.E. It's a collection of the most romantic love songs, poems and speeches from theatre and film (everything from Shakespeare to Bridget Jones!). I created it for Valentines, but hotels are asking for it as a night of special entertainment.
What kind of places do you sing at?
Mostly, I sing at the UAE's top hotels – normally these are in Dubai and Abu Dhabi but I have performed in Ajman too! I also do a lot of one-off corporate jobs for big companies and brand activations.
In terms of my presenting, I host lots of award ceremonies as well as doing screen interviews with top business people and VIPs. I also get asked to do voiceover work and commercials for TV.
When did you come to Dubai and what brought you here?
I first came to Dubai at the end of 2013, but it took me until November 2014 to move here permanently!
I first came out just for a month to tutor the children of one of the Sheikh's living in the Burj Khalifa. While I was here I realized there are opportunities for performers. I was living in London at the time doing a few shows/musicals, but the lifestyle seemed altogether better in the UAE. It wasn't a hard decision to move!
If there is any difference, what do you love more to do, sing, act or present? 
Gosh, that's actually a really tough question! I love them all for different reasons: singing allows me to reach people through music, acting gives me the freedom of being different people and presenting allows me to tell interesting stories. It's like choosing between your children, but if I had to pick one I'd probably say singing – it feels like home.
Do you have a favorite place to perform?
I love all the venues I perform at, but my favourite are the beach locations. There's nothing better than singing on the beach when the sun is setting and you can hear the waves behind you. 
Your plans?
At the moment I'm working on a couple of really exciting projects. One is to do with 'Sirens of the Silver Screen' and the other is a bit of a secret – I'm not allowed to say anything just yet (you can check back to my website www.bethburrows.com for news soon)!
Other than that I'm keeping very busy with singing gigs, presenting work and acting jobs between now and Ramadan – it's the busiest time of the year! I'm also planning on writing a new show over the summer months, ready to perform in the Autumn. 
---
Interview: Marlamaria
Fotos: Paule Knete und Beth Burrows
Classy Dubai berichtet redaktionell und unabhängig. Als People Magazin stellen wir Menschen vor die uns bedeutsam für die Stadt und ihre Bewohner erscheinen. Classy Dubai erhält keinerlei Bezahlung. Wir freuen uns, wenn Sie uns schreiben an marlamaria@classy-dubai.com oder uns anrufen. Von 6 bis 13 Uhr deutscher Zeit sind wir auch tel. erreichbar unter  
+971 52 6878 839. Wir sind werbefrei, Sie helfen uns einfach indem Sie uns auf den Buttons unten liken und weiterempfehlen.
Folgen Sie "Classy Dubai" auf
Instagram @dubaiclassy
Pinterest @classydubai
Facebook https://www.facebook.com/classydubaiblog
Twitter @classydubai
---